March 12, 2021
Hybrid work models are here to stay.
You don't need to study workplace trends to see one lasting aftermath of the pandemic is that employers will likely permit employees to adopt "hybrid" work - performing their jobs part of the time from home and part from an office or other location.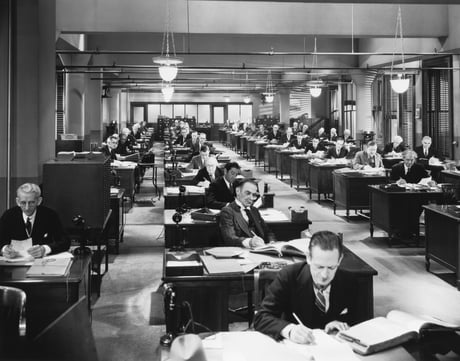 In a report published today by the Demos Group - The Nowhere Office, Julia Hobsbawn says:
There will no longer be a single one-size-fits-all 'normal' place of work, such as the skyscrapers of the 1930s onwards, which epitomises the silo, the single focus on work, on profit, on growth, and on separation of self from anything outside of 'The Corporation'.
Communications technology makes it possible today for an employee to be anywhere while communicating in the manner and with the fidelity we have all come to expect from business communications.
McKinsey & Company conducted an intensive analysis late last year of 2,000 tasks, 800 jobs across nine countries. It found that more than 20 percent of the workforce could work remotely three to five days a week as effectively as in-office. That could mean three to four times more remote workers than before the pandemic.
Recently we saw that BP had issued an instruction to 25,000 workers to work from home.
The McKinsey study also found that professional occupations are most likely to retain a mix of remote and in-office workers and show little to no productivity loss. In fact, many show gains and other benefits.
Attracting & Keeping the Best
According to Gallup research, remote work not only improves outcomes and employee productivity but is a policy that the most talented employees desire. That means a hybrid work option enables companies to attract and retain the most effective employees, wherever they reside.
The key is to create a "connected culture," which includes not just technology but a dedication to building interactivity.
The objective should be to enable employees to feel connected with one another and to be able to communicate effectively with people both inside and outside the company. Employees in home offices or working remotely may feel isolated otherwise.
Decisions regarding how to make hybrid workforce operate best and expand its potential often come down to how a company communicates.
Communications for Work-From-Anywhere
A common approach to encouraging remote workers to use a distributed corporate communications environment has shown to be less effective than once thought.
For many years, the common technique for teleworker communications has involved placing an app on employee mobile phones that integrates the phone to the corporate PBX or UC platform.
But researchers have found that these apps are widely disliked, because they create complexity in using the phone and produce poor communications performance that does not achieve business class communications quality. Nemertes reports that a full 94% of users ignore these phone apps when it is time to actually place a call.
Mobile Unified Communications
But a new approach is now quickly becoming the standard for communications for the distributed workforce. The technique is to deploy Mobile Unified Communications that are based on next-generation Fixed Mobile Convergence.
Our turnkey business mobile service Tango Networks Mobile-X is the industry's prime example of this technology. The service turns any mobile phone into a full-featured extension of a company UC platform. This innovation allows remote workers to communicate seamlessly and efficiently as if they were carrying an expensive desk phone in their pockets.
Mobile-X was just honored with its fourth major product award in the past year, winning the company designation as a Remote Work Pioneer.
These awards recognize the importance of this technology for providing business class communications for companies operating work from home and hybrid environments.
Contact us to learn more about Mobile-X today.