March 18, 2021
The trend everyone has been talking about for the past year - the transition to work-from-home programs - is now underscored by new evidence.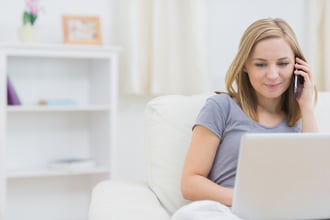 Indeed.com, a career services website, reports that the number of job listings that mention "remote work," "telecommute" or "working from home" has doubled over the past year and is still going up.
The company said most of the positions offering remote working options are in professional fields, such as law and finance, and also in technology-oriented roles including technical support and software development.
This new data provides more evidence that the pandemic measures adopted by many companies are becoming permanent changes in many ways. Hybrid work arrangements, with employees working from home part of the time and in the office the other part, are increasingly common.
But these latest trend points also highlight a broader, longer term trend around expanding corporate communications to encompass a distributed workforce.
This week we have published our latest trend advisor, taking a look at how five representative types of workers - field service personnel, professionals, customer service and others - can achieve greater productivity and efficiency when they are tied into a "work from anywhere" communications platform. Download your copy of Mobile Unified Communications for the Distributed Workforce here.
While work-from-home measures might be getting the headlines, the broader, longer-term trend is really about how new technologies are actually expanding the communications footprint for a company.
Expanded Communications Promotes Efficiency
A range of technologies has been applied to extending communications to employees working from home or on the retail store floor or in the field making service calls.
But until relatively recently, the solutions for tying these distributed and mobile workers into a communications platform that spanned a company were less than user friendly and were often hard to manage,
Take the example of a deskless worker managing inventory in a large warehouse.
In previous decades, such an employee would likely not be in communications reach during large portions of their workday.
Suppose they were assigned to conduct a "pick" of an item to fulfill an order. But while they were in en route, a change to the order came in, doubling the quantity to be picked. The warehouse worker would not know this until they had returned with the original pick, then they would have to redo the pick.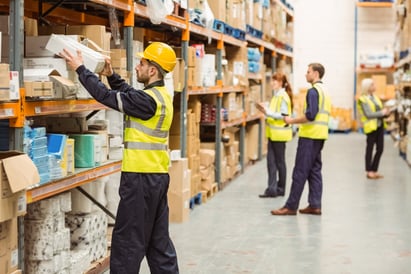 They would have doubled the time and distance covered to complete the changed order.
Or perhaps this employee would carry a radio or a DECT-based system. These devices would put them in touch with their supervisors and order management and permit a certain level of communication that would bring some efficiency benefits. So the arriving order change would be communicated to the employee and they could pick the right quantity during their first trip.
This type of "first-time-right" process is a hallmark of quality processes and lean and efficient operations.
But the tools used for such deskless worker communications have typically been less than ideal in the past.
Radio coverage can be spotty, leading to poor quality of communication, misunderstandings, or no contact at all. Plus DECT systems are notoriously expensive, cutting into the benefits received from efficient communications.
One approach to improving the subpar communications solution is to arm the warehouse employees with cellular mobile phones, taking advantage of the coverage of cellular services and the quality of communications of modern mobile phones.
But this approach too has many issues when it uses older generations of mobile technology. To tie these workers' mobile phones into a single communications system would typically require apps to be installed on the phones.
These apps used for communications are "over-the-top" and use data services, so call quality is often poor and can be greatly affected by network congestion. The apps themselves are not intuitive to use, and researchers indicate that users ignore them almost 100% of the time.
Then there are the IT headaches of installing, maintaining and troubleshooting the apps across the varied phones that may be in use.
Mobile Communications Expand the Footprint
Thankfully, the latest advances in mobile technology solve these problems and complexities. It's now possible to expand a company's communications footprint to include deskless workers and work-from-home employees with business-class quality while keeping things simple.
The Mobile-X service from Tango Networks is the industry's premier example. The service has won a host of awards in the past year for its groundbreaking approach to business mobile communications.
Mobile-X ties any mobile phone into a corporate unified communications platform, creating full-featured Mobile Unified Communications.
Most importantly, Mobile-X does this without requiring any special apps. It makes business communications features usable via the phone's native interface. This is made possible by the latest breakthroughs in Fixed Mobile Convergence technology, for which the company has been awarded more than 90 patents.
That capability eliminates the hassles and poor user experience around legacy mobile UC apps.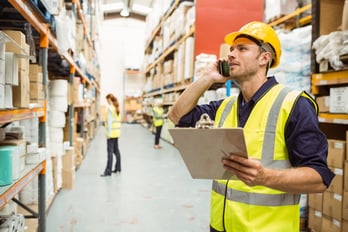 So the warehouse picking scenario described above becomes a dramatically simpler and more efficient proposition.
The employee can be armed with any mobile phone that supports a SIM card, even their own personal phone. The SIM ensures the device is always integrated with the corporate communications system. So the employee is consistently reachable with high quality communications.
Employees can even operate features like call forwarding and holding directly from their mobile phones' native interfaces. It's just like they are carrying landline deskphones in their mobile phones.
As our new trend advisor explains, this one scenario is a prime example of how companies are using Mobile-X to go "Mobile First" and use mobile phones to expand the footprint of corporate communications.
Want to learn more about how Mobile-X can extend mobile communications seamlessly to your distributed workforce?
Just fill out the form below and we'll be in touch.