November 1, 2019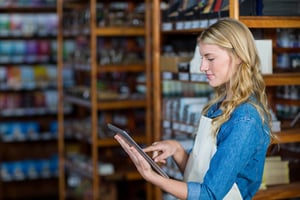 For a long time DECT phones were seen as an elegant solution to an age-old problem – how do you communicate with your team members when they're not near a deskphone?
For years retailers, healthcare professionals, logistics and warehousing operations have relied on DECT systems to manage customer service, patient movement, logistics and many more situations where fast and reliable communications are needed with deskless employees.
DECT stands for Digital Enhanced Cordless Telecommunications. That means that the phone links up to its base wirelessly, enabling users to be on the move while they take a call, as long as they don't stray too far away from the base unit.
If you sell communications solutions to these types of customers, or if you use DECT yourself, then you know that DECT has many issues that limit its flexibility and effectiveness:
Poor device battery life
Spotty and limited wireless coverage
Expensive to maintain
Expensive to expand or enhance a deployment
Because of these limitations many users adapt the way they work to suit the technology rather than the other way around. They may use personal mobile devices. They may simply do without reliable communications, which prevents their work from being flexible and agile, something which is crucial in today's business environment.
What's the solution to DECT's limitations?
DECT's fixed base technology has lots of limitations, such as limited range from the base station, the need for hardwiring and the need for a permanent power supply, not to mention some organizations may have signal and coverage issues due to the thickness of their facility walls.
The obvious solution is to switch to modern mobile phones. But without the right infrastructure to transfer calls to the right people at the right time, customers won't see any benefit.
That's where Tango Networks' Mobile-X wireless service comes in. Our SIM-based service dovetails with your main switchboard system to ensure calls are transferred seamlessly, gives uses added features like hunt groups and call recording and crucially gives staff on the ground access to more customer support information via the smart phone it works on.
Mobile-X from Tango Networks brings next-generation fixed mobile convergence technologies to communications for the distributed workforce. Now workers in or out of the office can have seamless corporate communications, including Mobile Unified Communications, mobile workforce communications, and programs for remote working, work from home, telecommuting and business continuity.
Now your business customers can extend highly flexible mobile communications to all their frontline workers. Mobile-X provides:
Full-featured mobile phones with dramatically longer battery life than typical DECT handsets
SIM-based communications that eliminate the need for DECT base stations and the landlines connecting those base stations
The ability for users to roam outside an enterprise and still be reachable
Cloud-based PBX functions that your customer's IT department controls directly, creating a single seamless communications fabric for workers anywhere, on campus or off
Flexible policy enforcement, including time-of-day, communications recording with recording tools, safe driving enforcement, and much more
Powerful foundation for migration to Private LTE, CBRS and private wireless spectrum deployments
Get in touch with us today to see how Mobile-X can replace your customers old DECT systems. Fill out the form below to learn more and arrange a personal demonstration, or send us an email at sales@tango-networks.com.