September 22, 2021
Imagine you run a small shop, say a kitchen goods store. And imagine that you have a healthy volume of customers walking in every day to buy.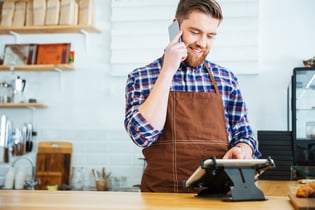 But now imagine that for some strange reason, you are unable to speak to two out of every three of these customers. When they inquire about buying your products, these customers must leave messages for you. Then you get back to them some time later, perhaps after they have lost interest.
It seems like a weird, nightmare scenario, right? But in fact this mirrors today's reality for the majority of small and medium businesses that depend on the phone to get new business.
Research shows that small and medium businesses miss 62% of their calls.
Communications Conundrum
The reasons these calls are missed are obvious.
Small businesses have small staffs, with workers often wearing multiple hats to keep the operation moving. It can be hard for a small business to pay someone to answer phones all day every day or hire a call center service. Instead, the people who answer the phone may be engaged with other jobs, so calls roll over into voicemail and engaging with in-bound customers is delayed.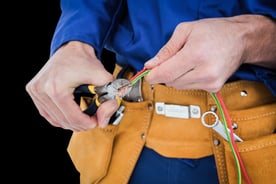 This is especially true for in-home service operations, like plumbers and electricians. Often these small businesses are sole proprietorships or with limited staff, all busy serving customers.
Because these operations are heavily dependent on in-bound calls to generate new business, who knows how many new customers they are missing?
Another problem comes up when the employees return a missed call. In many cases, these return calls are placed from an employee's personal cell phone. The potential customer sees an unknown number and doesn't answer, as 87% of consumers won't.
Every missed call represents a missed business opportunity as many potential clients may just move along to the next provider until they get an answer.
Affecting Everyone
These issues are now not just a problem for small operations. Businesses of all sizes, including massive, multinational enterprises, have embraced work-from-home and hybrid working models with employees working wherever they happen to be.
This work-from-anywhere change means a huge amount of business communications are taking place with personal mobile devices. Mobile phones are the only communications devices that work everywhere these employees typically are.
The impact on business communications quality and efficiency is huge:
Customers and partners receive calls from personal cell phone numbers, leading to missed calls and an unprofessional appearance.
Calls that previously would have been picked up by an employee at a desk phone go unanswered.
Some businesses require employees on cell phones to use a special app that is tied to the corporate numbers and phone system. But these apps are almost always ignored by users or they result in very poor communications quality because they use VoIP over data channels.
Work-from-Anywhere Communications
As the work-from-anywhere model is the new normal, the ideal solution is to allow employees' mobile devices to operate just as if they were desk phones, with all of the business features such as call forwarding, hold and conferencing, as well as having business identification and compliance recording features.
The Mobile-X service from Tango Networks is the industry's premier example of how native mobile communications can be integrated directly into a corporate UC deployment.
Via its patented implementation of Fixed-Mobile Convergence technology, Mobile-X ties any mobile phone natively into a corporate UC platform, creating full-featured Mobile Unified Communications or Mobile UC.
That capability eliminates the hassles and poor user experience around legacy mobile apps because the mobile phone's native interface becomes an extension of the corporate communications system.
It also allows any user to receive business number calls on their mobile, including personal BYOD devices. And users can make calls using the business identity and numbers.
For small and medium businesses, this is a huge boost in the ability to respond to in-bound calls and also put forward a professional business face.
For any company that permits remote working at least part of the time, the service ensures employees can use the business numbers and identify, just like they are carrying a desk phone in their pockets.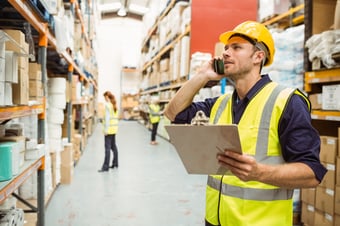 That's why Mobile-X has become the communications service of choice for companies operations programs for working from home, remote working, telecommuting and business continuity. We also see that the service generates a huge productivity boostfor deskless workers, employees in hybrid work environments, and especially workers on the go with mobile jobs.
Our Mobile-X service is available only through our value-added reseller and CSP partners.
Want to learn more? Fill out the form and we will be in touch: