March 22, 2021
Mobile Devices may be the most important tool a company has to create seamless distributed workforce communications that can not only cut communications costs but also dramatically boost productivity.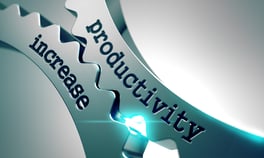 Consider the example of a leading U.S. food manufacturer. This company, with three rapidly growing main locations, is the subject of a new case study about the power of going "Mobile First" with Tango Networks' Mobile-X communications service.
Mobile-X utilizes next-generation Fixed Mobile Convergence technology to turn mobile phones into full-featured extensions of a company's Unified Communications platform.
The result is true Mobile Unified Communications, a powerful, flexible communications approach optimized for employees who may be spread among many facilities, in the office, or working from home.
This is why we describe Mobile-X as the world's first mobile service "Built for Business, Controlled by Businesses."
Weighing the Options
The food manufacturer's IT team recognized that the company could cut costs by eliminating landline desk phones for those employees who used them. Going "Mobile First" would turn mobile phones into the primary communications tools for employees no matter where they were.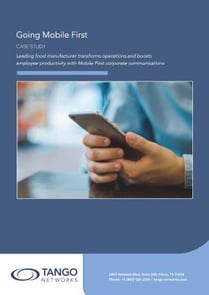 But there are a number of options for how to go "Mobile First."
Some companies permit a mix of company-issued phones and personal phones, allowing employees to choose whatever devices they prefer. But this results in a messy hodgepodge of numbers and identities, as employee communications from the devices are not carrying the corporate identity.
Another alternative many companies consider is to use apps that are installed on the employee mobile phones. These apps use over-the-top data connections to integrate communications with the corporate UC platform.
But these apps create their own set of headaches. Researchers report that users overwhelmingly dislike using them, because of poor communications quality and a confusing user experience. They turn instead to the native mobile phone interface to make calls. Then there are the costs of training and the costs of maintaining and troubleshooting the apps on all the employee phones.
Native Mobile Makes it Simple
The food manufacturer rejected these alternatives in favor of a Mobile-X based service that ensured Mobile Unified Communications would be simple to deploy and simple to manage.
For example, Mobile-X enables one SIM and one mobile subscription to be utilized across all employees regardless of location. That makes managing mobile communications incredibly easy for the IT team.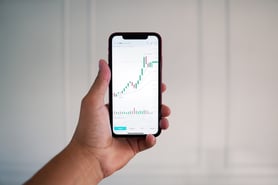 And a key benefit of Mobile-X is that it enables the mobile device's native dialer to be used for business calls. Each mobile phone is turned into an extension of the company's UC platform. Users can forward calls, place them on hold, and conduct other standard business calling operations directly on their mobile phones' native interfaces.
Native mobile communications mean employees are able to use the phone interface they know and are comfortable with, while still ensuring communications represent the company in a polished and professional manner.
Major ROI
The food manufacturer went Mobile First and realized first-year cost savings of nearly $400,000 and recurring annual cost savings of $220,000 by cutting landlines and reducing expensive premium mobile phones and plans - savings that easily justified the changes.
But the benefits of going Mobile First went far beyond the cost savings. The new approach to communications proved to raise productivity by streamlining communications across the board and by expanding the communications footprint to more employees.
Many of the food company's employees don't operate from a desk with a landline. These "deskless" employees include workers on the food processing operations floor and those in logistics, shipping, warehousing and inventory.
Those folks weren't tied into the corporate communications system at all prior to the implementation of Mobile-X.
The company recognized the value of allowing deskless employees to communicate via mobile phone to promote reachability and responsiveness, and thereby boost productivity.
With everyone tied in the corporate communications platform, communications is dramatically more efficient and timely, with employees able to be reached and respond rapidly to customer requests or other needs.
Ready to Go Mobile First?
Get in touch with us to explore the options to boost productivity and enable "Work-from-Anywhere" options for your employees with Mobile-X. Just fill out the form below to learn more.