August 14, 2020
We can all be fast-fingered with messages using applications on social channels, but at some point, we do need to speak to someone.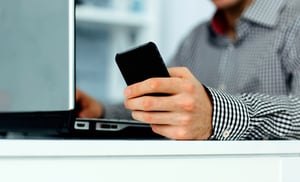 Consider the ways that we communicate in sales.
If you are in the business of selling communications services to business customers, you know that a voice call is still often the "killer app" for our communications platforms. Nothing can close a deal more effectively than a good discussion that sets the tone and cements a new relationship.A voice call enables us to engage all the important interpersonal skills, such as active listening and empathy.
In today's world of social distancing imposed by our pandemic response measures, in-person meetings that build good sales relationships are increasingly rare. So the voice call using our mobile phones is ever more important and truly is an essential part of our arsenal of communications tools.
But if your mobile voice calling app isn't stable, then your team loses the opportunity to build a professional impression with prospects and clients.
Why then are enterprises are making this essential task so complicated and unreliable with the deployment of over-the-top mobile applications to handle calls?

In sales, we cannot risk clunky tech slowing us down so we end up bypassing corporate applications and using the native dialer.

From the enterprise IT side, there's a loss of control, personal numbers are exchanged, and that becomes the de facto communication route forever.

Data released recently from Nemertes Research backs up my own personal experiences and frustrations.

Almost 70% of people surveyed across 525 organisations prefer the native dialler.

Despite IT departments investing in OTT applications, only 5.7% of employees use them.
This data underscores why our Mobile-X service is seeing a huge upsurge in demand. Mobile-X enables users to operate their native phone dialers to conduct polished, compliant business calling.
Incorporating a breakthrough implementation of fixed mobile convergence technologies, Mobile-X from Tango Networks dramatically improves mobile communications for a distributed workforce, including Mobile Unified Communications, work-from-home, remote worker, teleworker, telecommuting, connected worker and business continuity programs.
All calls to and from the mobiles use the business numbers - no personal numbers are exposed or exchanged. And users can utilize business calling features like hold, transfer and conference right from the native phone interface - no clunky apps involved.
Are you a reseller of business communications services ready to offer the new generation of mobile communications? Check out our recent webinar with Comms Business.
Or fill out the form to get in touch and learn more.