May 19, 2021
For some companies, it was a revelation about a new way to work. For others, it was validation of a growing trend.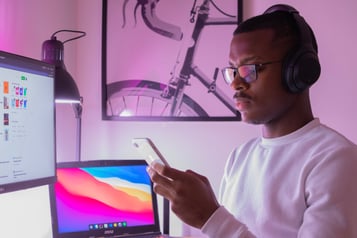 The sudden cutover to "Work-From-Home" for many employees last year caused a broad rethink about where and when work can take place.
And now that businesses are opening back up, the hybrid workstyle, with part of the time in the office and part of the time at home or elsewhere, is being embraced by a huge swath of the business world.
The question for businesses adopting this approach is how to manage and support this new model.
Accelerating the Trend
In many cases, the pandemic-driven shift to working from home hastened what was a growing trend among companies employing knowledge workers.
A couple decades ago, knowledge workers typically worked 100 percent in the office, except business meetings, sales calls and the like. As connectivity improved and computing became portable, some companies began to adopt teleworking and remote work for some portion of the time. The drivers of course were increasing productivity and efficiency, enabling workers to respond and act on work matters outside of business hours or when traveling.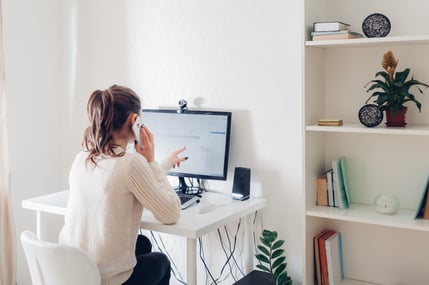 A large portion of the trend was based on technologies that make it increasingly easy to collaborate remotely. Once upon a time, collaborating on a financial plan required passing around paper and in-person meetings to go over ledgers and budgets. All of that made a shared office environment essential. Now the ability to email a spreadsheet or share it via the cloud dramatically decreases the need for the in-office meetings to collaborate.
As the pandemic suddenly shifted most knowledge workers into full-time remote work, these technologies became the lifeblood of business.
Surveys show that a majority of businesses will retain remote work at least a portion of the time. In some cases, businesses are permanently assigning employees to be in the office only a couple of days per week.
A survey by PwC found that only 21% of executives believe it is necessary for employees to be in the office for a full five-day work week. In contrast, 55% indicated three days or less in the office would suffice.
Ready for Hybrid?
But how ready are we for the new workstyle?
A survey by Microsoft Surface reported that 90% of UK office workers felt their employers had adequately adapted to the hybrid style of working.
But other surveys indicate that most affected employees believe their employers are not adequately prepared to support the teleworking model in the long term. A widely reported study by Sony Professional Solutions indicated that only 20% of workers believe their employers were ready for hybrid.
Consulting firm Caja Group published an interesting survey that businesses can use to self-test their level of readiness. Are the policies and procedures in place to administer the hybrid model?
Of course, as part of the decision about whether to operate a hybrid model, companies need to consider how attractive this workstyle is to the employees they want to recruit and keep. The Sony survey found that younger workers expect to have the option to work remotely. It's easy to see that employees will consider an employer's policy around remote work when evaluating job offers.
Success Factors
Beyond adequately governing the hybrid practice, it seems like the main success factors for hybrid programs boil down to:
Workday flexibility: The traditional 9-to-5 workday is neither necessary nor advantageous. For the employer, employees working outside the normal workday can mean off-hours issues can be dealt with more readily and other geographies can be served more efficiently. For employees, it is hugely convenient to squeeze doctor appointments or picking up the kids from school into the normal workday hours.
Focus on results: It has been a longtime trend especially among technology companies that employee performance should be measured by results, not the number of hours they spend at a desk. Companies that have that focus will have a dramatically easier time ensuring remote employees are productive.
Communications: The companies operating the most effective remote working programs have simplified and streamlined the tools that permit employees to be in contact and able to collaborate.
Work-From-Anywhere Communication
A mishmash of video conference apps became popular for remote working during the pandemic. But a vast number of employees also turned to the device they had already been using more and more for business: the mobile phone.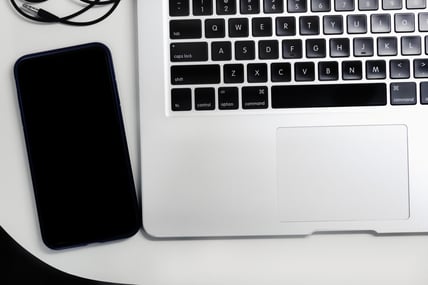 Voice communications continues to be the killer app for conducting business. As companies move to the hybrid model, the mobile phone will become even more critical to smoothly functioning businesses.
The traditional, in-office landline is less relevant when employees are in the office for only a fraction of the time. Even when they are in the office, they likely will be in meetings and away from their desks anyway.
As business travel picks back up, the mobile phone becomes the communications tool that employees can consistently use no matter where they are doing business.
So wherever the employee is working – in the office, in their home, in the coffee shop, on the road – the mobile phone is the one device that can keep them connected in all cases.
From 'Mobile First' to 'Mobile Only'
Prior to the pandemic, some forward-thinking companies were already adopting "Mobile First" communications, making mobile phones the primary communications tools for employees.
Some had even gone as far as retiring landlines, cutting the cord entirely, and going "Mobile Only." PwC famously took this step with its 10,000 UK employees.
We expect the hybrid work model will solidify and accelerate this trend. The idea of cutting costs by eliminating landlines is attractive enough. The idea of also enhancing productivity and efficiency by enabling employees to use one device to "Work-From-Anywhere" raises the business case to a whole new level.
Ready to see how business Mobile Unified Communications can power your hybrid work model? Interested in reselling our Mobile-X turnkey business mobile service? Shoot us an email at sales@tango-networks.com and let's talk!…