August 25, 2020
Mobile phones have never been more critical to business communications than they are today.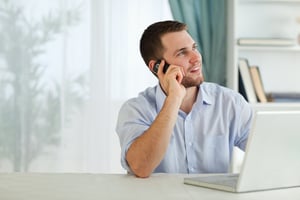 They have become essential tools in the remote working arrangements that are the norm for many businesses even as pandemic measures are lifted.
So it is enlightening that new research from Nemertes reports that business users vastly prefer the native mobile phone experience over commonly deployed Mobile Unified Communications (Mobile UC) apps. Nemertes surveyed more than 525 organizations about the state of Mobile UC.
Irwin Lazar, VP and Service Director at Nemertes, reported that:
24.4 percent of the organizations had deployed Mobile UC applications to employees, to an average of almost half of employee phones.

But just 5.7 percent of those employees with IT-provided Mobile UC apps use them for making phone calls.
Why is actual usage of Mobile UC apps for voice communications so low? It turns out the user experience is the crucial factor.
Remote Working for Business Continuity
A recent survey by Harvard University found that one in six companies plans to continue remote working programs for employees even after pandemic restrictions are lifted.
Indeed, the last six months have highlighted the need for improved business continuity planning for many companies. Mobile phones have proven to be an essential component in these programs, enabling employees to carry on with business regardless of their locations.
But the Nemertes report found that the overwhelming majority of business users ignored the IT-approved Mobile UC apps in favor of the native phone interface on their mobile devices. The primary reasons why were:
69.5 percent simply preferred the native dialer.

22 percent said the Mobile UC apps were difficult to use.

17.1 percent said the apps provided poor voice quality.
The Native Mobile Experience
The Nemertes' findings matched what we have seen as we have rolled out Tango Networks' Mobile-X, which is the industry's first native mobile service for business in a turnkey, channel-ready offering.
Mobile-X permits users to:
Enjoy business-quality communications on their mobiles without any special apps.

Activate their company's UC platform business features with the native phone interface, performing tasks such as call forwarding and conferencing.

Place mobile calls that have the company's caller ID, even when the user is on a personal phone.
Mobile-X is sold exclusively by our channel partners.
Mobile-X enables CSPs and integrators to offer services supporting Mobile Unified Communications, mobile workforce communications, and programs for remote working, work from home, telecommuting and business continuity.
Learn more about how you can resell Mobile-X in our recent webinar: https://view6.workcast.net/register?cpak=3356694180198349&referrer=Tango
Or fill out the form below to learn more about offering services based on Mobile-X: