January 6, 2022
The end of 2021 was marked by several significant milestones in business communications trends. These forces will profoundly affect how we work in 2022 and beyond.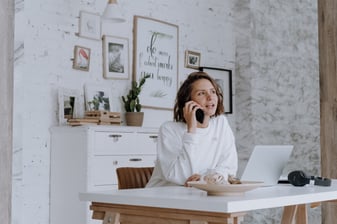 First, securities regulators in December launched a crackdown on financial services workers using personal mobile phones, highlighted by the $200 million in fines levied against J.P. Morgan Securities.
Second, high-profile companies around the world announced they would continue remote working practices that began with the onset of the COVID-19 pandemic. In some cases, remote working has become permanent.
These two trends converge with a third: technology is now available that makes personal Bring-Your-Own-Device (BYOD) mobile phones fully business ready, including compliance with recording rules.
In 2022 we are certain to see further developments in all three trends.
Trend: The Communications Compliance Crackdown Arrives
It comes as a surprise to no one that personal mobile phones and accounts are in widespread use for business.
Over the past two decades of massive uptake by consumers, mobile phones are now the top communications device in every context - including business. There is an entire generation of employees now in the workforce that has no interest in using a landline desk phone if they can avoid it.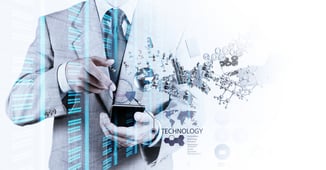 The problem arises when employees use their personal phones for a company's activities. Part of the issue is the negative impact on brand and customer experience. It's just not a good look if your business is represented by a hodgepodge of personal phone numbers and Caller IDs.
But a bigger issue for many companies is compliance, a problem that can directly hit the bottom line. In many companies, calls and other communications are required to be recorded and retained, either because of regulatory requirements or for customer experience monitoring.
And this issue was in the spotlight in December when US financial market regulators hit J.P. Morgan Securities with the big fine.
The US Securities and Exchange Commission said the financial services firm failed to capture and retain regulated communications that took place on employee personal devices and in personal accounts.
The SEC added that more such investigations are under way with other financial services firms.
This "Communications Compliance Crackdown" promises to put personal device usage front and center as one of the chief headaches of IT in many companies. Similar records retention rules are in place around the world, such as the Markets in Financial Instruments Directive (MiFID) in the UK and rules enforced by the UK's Financial Conduct Authority (FCA).
Of course, as work-from-home and remote working practices continue, the likelihood that personal phones will be used for regulated financial communications will only increase.
Trend: Remote Working Momentum Endures
At the same time US regulators launched the Communications Compliance Crackdown, many businesses were deciding that remote working would continue for the foreseeable future.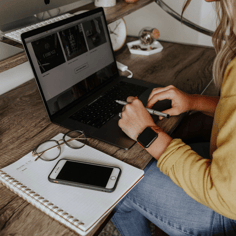 Companies like Google, Ford, Uber and Facebook announced they would be adjusting plans for employees to return to offices. And in many cases companies have decided to make remote working permanent at least part of the time, Many are embracing a hybrid model with employees in the office part of the time and working from home or elsewhere part of the time.
Some companies are using remote working and flexible scheduling as carrots to recruit the best talent in their industries. Others are learning how to use work-from-anywhere practices as a way to boost productivity and employee collaboration.
Key to such programs of course is communications that support the flexibility and deliver the consistent quality needed for business. While video conferencing, collaboration workspaces and similar tools have seen widespread adoption since the forced cutover began to working from home two years ago, mobile phones are now the top communications tools for getting work done in any location.
Trend: The New BYOD with Native Phone Integration
When some company IT departments began permitting employees to use their own devices for work around 20 years ago, it was a double-edged sword.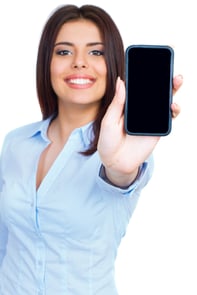 Employees certainly were more comfortable with their own devices. Plus reimbursing employees for some portion of service or device costs was cheaper than paying for company-issued mobile phones, for example.
But the headaches often outweighed the benefits. The primary approach was to require employees to use special apps on their phones that would enable them to communicate with business numbers and identities.
But researchers found that fully 94% of employees ignored these apps and just used their personal dialers and identities. This is exactly the sort of BYOD violation that is spurring the Communications Compliance Crackdown.
The good news is that mobile phone technology has finally caught up with the BYOD business practice.
Now eSIM technology supported by the latest generations of smartphones enable a SIM in the phone to be dedicated to business communications.
This technology trend means that mobile phones will not only be the most convenient devices for work-from-home and remote working, they can also be kept compliant with the recording and records retention rules.
ESIM-enabled Phones for both Mobility And Compliance
Our new Mobile-X Extend solution is the industry's premiere example of a solution that turns a personal phone into a business-ready extension that can be managed for recording compliance. Today's eSIM technology makes it easy to implement two separate personas in a phone, one for business and the other for personal use.
Mobile-X Extend is a turnkey service that automatically integrates a SIM in a dual-SIM phone into a company's communications platform.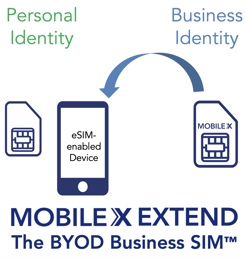 That means you can control an eSIM in an employee's phone as a compliant business line, including the capturing and recording of calls and texts for business. Meanwhile, the phone's other SIM remains personal and private for the employee's use.
Mobile-X Extend operates with our patented next-generation Fixed-Mobile Convergence technology to make personal BYOD devices truly business ready for the first time.
Mobile-X Extend is being used by companies to extend unified communications to mobile employees, deskless employees and firstline workers along with those in work-from-home, hybrid and work-from-anywhere programs.
These companies are cutting landlines and desk phones and company-paid mobile phones. They are cutting their carbon footprints and improving worker reachability and productivity with more flexible and timely communications.
Interested in learning more? Just fill out the form and we will be in touch: