October 1, 2021
Mobile communications technology has become the centerpiece of new hybrid work models taking hold in businesses around the world.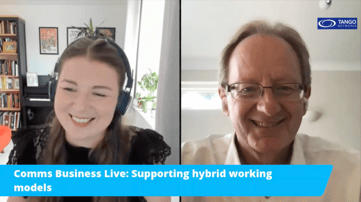 That's the focus of a new interview with Andrew Bale, our General Manager of Cloud Services, published in today's issue of Comms Business and in a video podcast.
Comms Business Editor Charlotte Hathway discusses with Andrew the new channel opportunity for supporting these work models.
Companies around the world adopted Work-from-Home practices last year in response to the COVID-19 pandemic. Now many are embracing hybrid work models in which employees work from home part of the time, in the office part of the time, and anywhere else they happen to be.
"Hybrid working brings together the skills of working remotely and the skills of working together," Andrew explains. "And mobile technologies allow us to take these sophisticated collaboration tools and use them wherever we want.
"The mobile network is the most extraordinary machine that mankind has ever built. The global mobile network is the biggest and most complex communications tool we've ever had. Businesses need to learn how to use that effectively."
The New Channel Opportunity
Channel partners such as value added resellers and communications service providers are stepping up to help businesses make the most of mobile communications for enhancing worker productivity, Andrew says.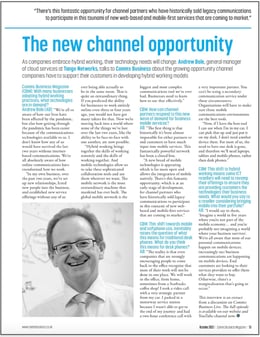 "A new breed of mobile technologies is appearing which is far more open and allows the integration of mobile natively. There's this fantastic opportunity, which is at an early stage of development, for channel partners who have historically sold legacy communications to participate in this tsunami of new web-based and mobile-first services that are coming to market."
You can view the entire video interview here or read the article version of it here.
Work-from-Anywhere with Mobile-X
The award-winning Mobile-X service from Tango Networks is the industry's premier example of how mobile communications can support a hybrid work model.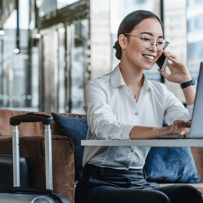 With nearly 100 patents on its implementation of Fixed-Mobile Convergence technology, Mobile-X integrates any mobile phone natively into a corporate UC platform to enable true Mobile UC.
With Mobile-X, employees operate their phone's native phone interfaces for features like call forwarding, hold and conferencing. It's just like they are carrying landline desk phones in their mobile phones.
These benefits are why the Mobile-X service is the communications solution of choice for companies maximizing productivity of Work-from-Anywhere employees in hybrid work models.
Mobile-X simplifies communication for working from home, remote working, telecommuting and business continuity. It generates a major productivity boost for deskless workersand especially workers on the go with mobile jobs.

Our Mobile-X service is available only through our value-added reseller and CSP partners.
Want to learn more? Just fill out the form: