April 9, 2020
The times, they are a-changing.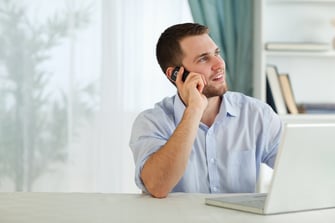 I would bet $5 you are not reading this blog from your office.
Or perhaps it's better to say you probably are reading it from your new office ... you know, the one in the guest bedroom.
Many of us think of life pre-COVID-19 and post. I recently heard someone say we should look at it as three major phases:
Pre Problem
During Problem
Post Problem
During the problem, many companies are assigning all employees who can to work from home. But coming out of the COVID-19 pandemic, "Post Problem," many of us will NOT go back to working the same way we did before. COVID-19 was not a local issue, not a regional issue, but many say it is a first-of-its-kind global issue.
It has forced all of us to look at how we work together, and chief among the resulting changes is the move to distributed employees working from home.
Teleworking, remote working, virtual workplaces and work-from-home strategies were previously embraced with a mixed level of enthusiasm by some companies. Concerns about productivity and employee supervision made some companies hesitant, even though much research showed that productivity actually can increase in remote working programs. One study even found that remote employees give their companies and extra day and a half of productive work every month.
Most companies that did not previously embrace the trend of remote and mobile working are now forced to support this migration. People that had never heard of Zoom before have added it to their daily vocabulary.
People have changed the way they work and the tools they use must change with them.
Cutting the Cord: Mobility to the Rescue for Teleworking
An essential requirement for transitioning your workforce to the distributed, work-from-home model is to ensure that critical communications don't break down.
That means not only are employees reachable for business calls, but also that the calls have the quality and polish that will properly represent your business.
That why our Mobile-X service is increasingly the choice of companies adopting telecommuting.
With Mobile-X, employees no longer are tied to the softphone, over-the-top app, or even tracking down a power over ethernet adapter these days! They can place calls on their mobile phones using the built-in phone application that came with the phone smartphone. Making a call is just like you have done for years, except the phone will automatically place the call from your business number.
On top of that, you can activate business calling features right from your phone's regular interface. It's all the stuff you know and expect from business calling -- transfer, conference, hold -- except you can do it from the mobile phone with no special apps.
Mobile-X allows you to control the identity your employees present to customers, prospects, or the community at large. Get visibility into how your customers interact with employees. Even automatically integrate calls into your relationship management system. All using that little green button!
Mobile-X: Empowering Your Teleworkers Today


Tango Network's Mobile-X is driving boosts in remote worker productivity by integrating the native dialer and text messaging into your UCaaS environment. Its the most powerful zero-training solution for teleworking communications in the market today!
Fill out the form to get in touch and learn more about how Mobile-X will bring your teleworkers and workers on-the-go business class mobile communications.
Learn More About Mobile-X for Teleworker Communications: