March 20, 2020
"Working From Home."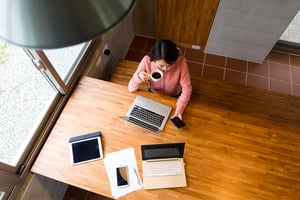 The phrase carries a lot of emotion in the workplace.
Business owners are concerned that their staff will not be as productive.
Staff need to program themselves to be "In the Office" while at home.
Staff also need to program themselves to "Go Home" from the office.
I have worked from home for the last 12 years. I hold a leadership position with teams that sit in the US and in the UK. I have found there is a balance and a structure to being a successful Work-From-Home-worker.
Some best practices that I have learned through my Work From Home experience:
Have a dedicated office space. Set this space up to look as you would if you were in a corporate environment. Have the necessary tools you need in your space: printer/scanner, a comfortable chair, the right lighting, and if at all possible, a door you can close.
Set the Rules of Engagement. Let your family know how to reach you when you are at work. When your door is closed – don't open it. If the curtain is drawn - don't open it. Reach out in exactly the same way they would if you were in the corporate office. Set the rules and enforce them.
Get up to go to work each day. Set your alarm. Get up. If you are one to work out in the morning – do it. If you need to get your children up and off to school – do it. Start your day just as you would if you were to commute into the office. This includes getting ready for work. You may have video conferences – so prepare. Take a shower. Dress appropriately for meetings. Get ready for work.
Commute to the office. Just because your office is at your house, doesn't mean you don't need to get there. Grab your coffee, breakfast, morning news … then hit the road or the stairs or the hallway. If you need to, leave the house, walk around the block, and come in with a work frame of mind.
Take a lunch break. It is so easy to work through the day once you are in your home office. Schedule time for lunch. Put it on your calendar. Force yourself to leave your office. Use this time to run your errands. Doesn't sound much different that when at the corporate office, does it?
Go home at the end of the day. One of the biggest traps we fall into is that we feel we need to show the company how much more productive we can be when working from home. Unfortunately, one of the unintended consequences is that we don't go home. At the end of the day, turn off your computer, turn off the lights, and go home.
Once you're home, be home. Change out of your work clothes and find your home life. Enjoy your family, unwind, hit the gym, watch your favorite shows. Let work go until tomorrow. That's what you would do after a full day in the office.
Believe it or not, once you establish your boundaries and work rules, you will actually become more productive working from home. You will not have the distractions of the cubicle conversations. You will not be as easily accessible for the water cooler chats that tend to last a bit too long. You will find yourself focused on a task until it is complete.
We've set up a Teleworking Technologies group on LinkedIn that is a great spot to share your tips and tricks for higher productivity while remote working.
Companies in a range of industries are using our Mobile-X service for business-class communications for teleworkers, remote workers and business continuity programs.
Featuring the most advanced implementation of fixed mobile convergence technologies, Mobile-X from Tango Networks supports many use cases for a distributed workforce, including Mobile Unified Communications, mobile workforce communications, and programs for remote working, work from home, telecommuting and business continuity.
Shoot us an email at sales@tango-networks.com to learn more or fill out the form below.