November 15, 2022
We are excited to announce that UC Partners Awards 2022 has nominated Tango Networks as a finalist for Best Unified Communications Solution.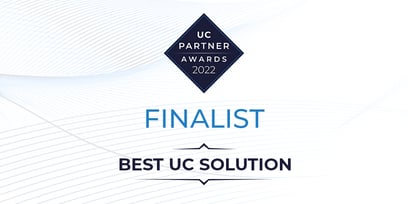 The global award, sponsored by UC Today magazine to celebrate success in the UC and collaboration industry, will be awarded Thursday in a virtual ceremony that can be accessed here.
The announcement follows a string of industry awards and accolades this year for Tango Extend, the groundbreaking solution for work-from-anywhere business mobile communications.
Among the other prestigious honors:
Tango Extend is gaining so much attention because of innovations like the industry's first Business SIM and our eSIM touchless activation. Tango Extend is leading the way in true mobile unified communications for today's work-from-anywhere world. Our solutions maximize communications efficiency and overall productivity no matter where people work.
We recently secured our 100th patent for our groundbreaking fixed mobile convergence technology that makes Tango Extend the industry's simplest and most flexible way to bring mobile unified communications to the entire distributed workforce of any company.
The service embeds a full-featured, secure and controlled business extension on employees' Bring Your Own Device phones or on a corporate liable phone without any apps or special configuration. Users can activate a business line in their personal phones simply by scanning a QR code.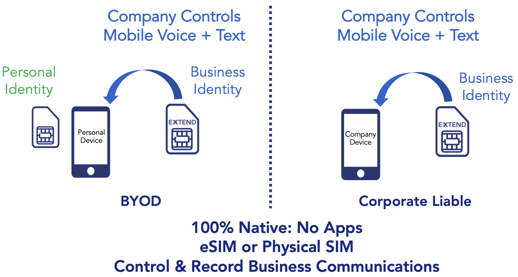 This becomes critical in industries such as financial services. A "Communications Compliance Crackdown" has nailed some of the world's largest banks with fines mounting to more than $1.8 billion because employees have used personal phones to communicate about financial transactions.
Tango Extend enables financial services organizations to automatically record employees' regulated business calls and texts for recording and compliance even on BYOD.
Now financial services firms evaluating phone options for remote employees can let them use personal phones for regulated communications without violating recording rules.

Companies also use Extend to support work-from-anywhere programs, remote workers and employees working from home, hybrid work programs, distributed workforces, deskless employees, frontline employees, and workers on the go such as delivery and in-home services personnel.
Want to learn more about the multi-award-winning Tango Extend, or find out about becoming a reseller partner? Just fill out the form below to learn more.