October 6, 2023
Maybe it's a stereotype to claim to be happy at just being nominated for an award. But we are delighted to achieve Finalist recognition in the Business Innovator Award category in Mobile Europe's MVNO (Mobile Virtual Network Operator) of the Year Awards.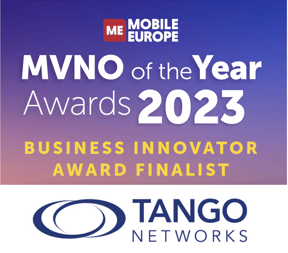 The awards recognize one of the most dynamic and innovative sectors in telecommunications by Mobile Europe, a leading B2B title for the telecoms industry. Mobile Europe reports, according to Future Market Insights (FMI), the global MVNO market is valued at $70.3 billion in 2022 and likely to reach $147.7 billion by 2032.
Tango Networks is a B2B full MVNO that enables UC platforms (such as Microsoft Teams, Cisco, Avaya, LG Ericsson and many others) to extend their reach to mobile phones used by Hybrid, Knowledge and Frontline workers.
As the winner of more than 12 UC industry awards, Tango Extend is the first of its kind to integrate any mobile phone natively into a company's UC platform.
Tango Extend is unique in the market for its innovative use of eSIM technology. It can enable an enterprise user to add a business number to their BYOD personal mobile phone or a company-provided mobile phone, securely and almost instantaneously by simply scanning a QR code. Most importantly, it greatly improves end user experience by allowing business calls to be made via the phone's native dialer, rather than via a UC App.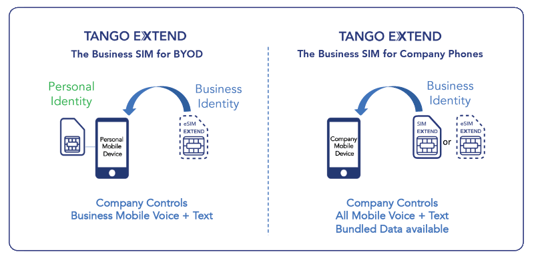 This "business line" on the mobile phone, allows it to operate like an office desk phone with all the security and UC features available. All business calls are routed by Tango over the mobile network to the UC platform, where standard calling policies can be applied (such as call routing, queues, international outbound restrictions and call recording). Meanwhile, all personal calls remain separate and private. It's the complete Desk phone in your pocket.
Tango Extend unites fixed and mobile business communications, for the first time putting control of all business communications in the hands of the IT manager.
With an increasingly hybrid workforce fueled by the pandemic and by a younger Gen Z and Y workforce insisting on using mobile phones for everything, this is the mobile communications solution for today's enterprise. It's been described as UCaaS Mobility 3.0 by industry analysts.
Tango operates as a full (thick) MVNO in the USA and the UK and has implemented this using IMS core infrastructure, to support both GSM and VoLTE host networks. It provides Voice, SMS, MMS and data "homed" mobile service in these two countries, but will shortly expand to offer seamless "homed" services with a single tariff in additional countries.
Tango Networks supports many different UC platforms and sells indirectly via a network of CSPs and resellers who typically provide UC services to enterprise customers.
Tango Extend has several key benefits to the UC Reseller, the enterprise and the end business user: It drives internal and external collaboration far deeper within the organization and out to remote and frontline workers, improving staff engagement and productivity. It improves UX by enabling users to use their own devices securely for business communications. It can save around 50% of existing communications costs by removing redundant desk phones and expensive company-provided mobiles and reducing personal expense claims, while at the same time improving ESG scores for carbon reduction by the business.
Get in touch to learn more about how Tango Extend can mobile enable enterprise communications.