July 11, 2022
Tango Extend has been named a finalist in the UC Awards 2022 for Best Compliance Product.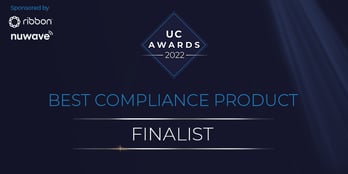 Now in its fifth year, the UC Awards are given out by UC Today, a leading online publication for Unified Communications and Collaboration technology.
Citing a record number of entries this year, UC Today said the winners will be announced at an online ceremony on July 28 at 3 p.m. GMT, 10 a.m. EDT. Register here for the broadcast.
Tango Extend was shortlisted in the Compliance category, which UC Today described as "open to vendors that provide regulatory control and compliance solutions for UC and Collaboration technology."
Tango Extend enables calls and texts on personal mobile phones to be automatically captured for recording, enabling banks and financial services firms to avoid massive fines for compliance violations.

In what has been dubbed the Communications Compliance Crackdown, financial industry regulators are fining banks and financial services firms because employees are using personal mobile phones for regulated communications.
US and UK regulations require that communications, including both voice and text messages, about financial transactions involving securities are recorded and retained.
While business call recording is a long-established practice with landline desk phones, regulators found that financial services employees increasingly using mobile phones, and especially personal mobile phones, to conduct these communications.
Tango Extend enables voice and text communications on any smartphone to be captured and recorded by the regulated firm, including business communications on personal Bring-Your-Own-Device (BYOD) phones.
Our platform has won more than 12 industry technology awards, citations and channel excellence recognitions. Covered by more than 90 patents, the platform incorporates the industry's most advanced fixed mobile convergence technology.
The service turns a SIM in any mobile phone into a business-controlled endpoint and automatically separates business identities and personal identities on BYOD phones.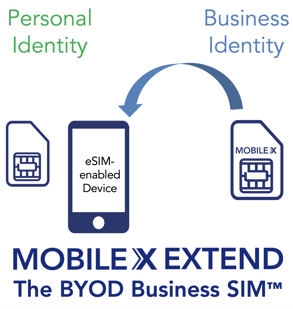 That makes it the perfect solution for allowing personal devices to be used for business, such as with regulated financial services communications.
Business calls and texts use the company-controlled SIM with the company identity and phone numbers. That permits these voice and text communications to be captured and recorded for compliance using the same recording tools traditionally used for landline desk phone call recording. Meanwhile, the personal calls and texts remain private and use the personal identity and numbers on the personal SIM.
Companies are using Extend to deploy business-ready Mobile Unified Communications, supporting work-from-anywhere programs, including hybrid programs with employees working from home or in the office or anywhere they happen to be.
Extend also supports Mobile First and Mobile Only communications integrated business communications for mobile employees and deskless and frontline employees such as in-home services technicians, service providers and installers.
Now financial services employees can use their personal BYOD personal phones for regulated communications without violating recording requirements. They can be both mobile and compliant at the same time.
We sell Extend only through our network of resellers. Interested in contacting a reseller or becoming one? Fill out the form to learn more: