November 4, 2020
Like so many of us today, CIO John is wrestling with the new normal of working. In our new Mobile-X explainer video, John wants to ensure his staff working from home can do so with business quality communications.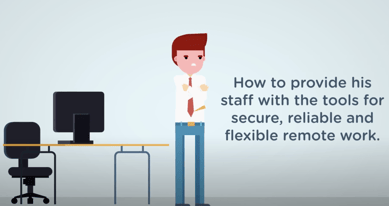 He's dealing with the pandemic-driven telework trend that shows no sign of fading.
In fact, a new report from Upwork shows that this trend may cause huge, permanent changes to how we work and live. The report revealed that 14 million to 23 million Americans intend to relocate to another city or region because they can work from anywhere.

That wave might benefit many businesses' bottom lines but leaves CIOs with a challenge as those remote workers rely on their mobile phones as their primary communication tool.
Nemertes Research's 2020 global study of 525 organizations found that 94% of workers refuse to use the official Mobile UC apps designated by their IT teams for making phone calls. Workers prefer their native dialer and native phone interface for making calls and find Mobile UC apps hard to use.
So how can you provide employees with the tools of secure, reliable and flexible remote work and make them an integrated part of your communications and IT strategy?
How can you maintain IT control over call routing and all voice and SMS capturing for compliance without apps and also allow workers to maintain their native user experience?

That's easy.
Featuring the most advanced implementation of fixed mobile convergence technologies, Mobile-X from Tango Networks supports many use cases for a distributed workforce, including Mobile Unified Communications, mobile workforce communications, and programs for remote working, work from home, telecommuting and business continuity.
Check out our new overview video to learn more:
Fill out the form to see how Mobile-X will put you in control of mobile communications once and for all