October 25, 2019
Retailers, healthcare, warehousing, delivery and logistics operations have struggled for years with the limitations of DECT systems.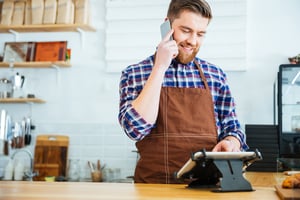 Poor battery life, spotty coverage and high expense have been top complaints about DECT wireless systems.

Now a new service from Tango Networks enables modern mobile technology to replace DECT systems and provide huge benefits for frontline workers.

We're excited to announce a new DECT Replacement service that uses Tango Networks' Mobile-X service to extend powerful, flexible mobile communications to frontline workers.

Mobile-X from Tango Networks is a key enabling service for modern business communications, including Mobile Unified Communications, mobile workforce communications, and programs for remote working, work from home, telecommuting and business continuity. The service brings next-generation fixed mobile convergence technologies to communications for the distributed workforce.

It offers:

Full-featured mobile phones with dramatically longer battery life than DECT handsets
SIM-based communications eliminating DECT base stations and connecting landlines
Ability for users to roam and still be reachable
Cloud-based PBX functions that the IT department controls directly, creating a single seamless communications fabric for workers anywhere
Flexible policy enforcement, including time-of-day, communications recording with recording tools, safe driving enforcement, and more
Powerful foundation for migration to Private LTE, CBRS and private wireless spectrum deployments
One of the unique features of Mobile-X is the ability for corporate IT to get control over mobile communications for the first time. Past attempts to extend corporate communications to mobile phones has been plagued with messy, poor quality over-the-top apps that users hate.
But Mobile-X puts native network control into IT's hands like no other solution on the market. Mobile-X does this with:
A universal corporate SIM that works everywhere
Out-of-the-box integration with all leading enterprise UC platforms, including Cisco (BroadSoft), Avaya, Microsoft and Asterisk
Unique self-service features giving IT control over policy, usage, routing and security
Mobile call and text recording and policy enforcement
All of these benefits are accompanied by Mobile-X's unique native mobile network performance, quality and security -- not messy over-the-top UC apps.
Now businesses can extend highly flexible mobile communications to all their frontline workers. This results in huge efficiencies, more responsive and productive staff, all at a lower cost.
Mobile-X is sold only through our reseller, system integrator and Communications Service Provider partners.
Interested in learning more? Just fill out the form below or email us at sales@tango-networks.com.