December 7, 2020
We are excited to unveil a new Mobile Unified Communications solution that raises remote worker communications to a new level for companies using Cisco communications platforms.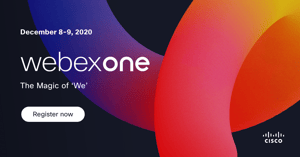 Join us at the Cisco WebexOne virtual conference this week to learn more about Mobile-X, the award-winning mobile service that turns any mobile phone into an extension of a corporate communications platform.
Now Mobile-X is natively integrated with Cisco Unified Communications Manager (UCM), in addition to integrations with Cisco's BroadSoft and Webex platforms.
This means Communications Service Providers offering business services with Cisco platforms can offer exciting new mobile services to their customers, turning mobile phones into business-class extensions. It's just as if teleworkers have a fully featured desk phone extension in their mobile phone.
But thanks to Tango Networks' next-generation fixed mobile convergence technology, Mobile-X requires no special phone apps that research has shown are widely disliked by users. Mobile-X lets a distributed workforce operate business class functions like forwarding and conferencing with the native dialer, for an unmatched user experience.
Join Tango Networks at WebexOne starting tomorrow to learn more. You will enjoy two days of conversations with thought leaders, luminaries, celebrities, technology partners, and Cisco executives, plus more than 30 customer and partner sessions. Click here to register for free.
Mobile UC has become the critical communications tool for businesses worldwide as remote working and teleworking become the norm for many of us.
Now Mobile-X is the premier communications solution for companies implementing work-from-home, remote worker, teleworker, telecommuting, connected worker and business continuity programs.
Check out our new Cisco Mobile Unified Communications explainer video to see how it works:
Want to meet up at WebexOne or get a demo of Mobile-X? Shoot me a note at philiphesketh@tango-networks.com.
If you are a CSP offering Cisco-based services, click here to learn more about mobile-enabling your platform to expand your portfolio:
Why Cisco CSPs choose Mobile-X