October 29, 2020
Tango Networks is featured in today's UC Today roundtable discussion of the most pressing challenges for Mobile Unified Communications and Fixed-Mobile Convergence (FMC) in the age of a pandemic.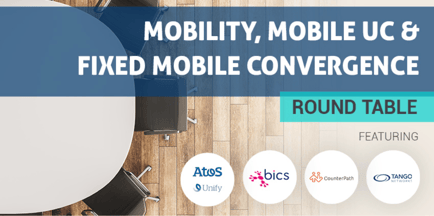 Mobile UC already an essential for many companies around the world. But it has become even more important because of COVID-19 and the widespread rise of the remote workforce and company business continuity programs.
In the article, our Andrew Bale, General Manager of Cloud Services, addresses the biggest challenges, how companies should respond, and whether artificial intelligence (AI) can positively affect Mobile UC.
UC Today reported that an early-2020 survey found 59% of workers use at least three devices at work, including mobile platforms. Even before the pandemic, more than 38% had team members working remotely, with 1 in 5 relying heavily on mobile, putting mobility, Mobile UC and FMC at the forefront of UC investments.
With many companies using and planning to continue to rely on remote workers, teleworking technologies will help remove communications fragmentation, which caused 60% of workers to have a communications crisis at least once a month last year, UC Today said.
Andrew spoke about an interesting dichotomy that often exists between mobile devices and the UC discipline as a whole.
"2020 research showed that businesses who adopt UC can achieve measurable gains in productivity and cost savings compared to peers," he said. "However, moving these benefits over to the mobile phone – today's communications device-of-choice – can start to lose all of the benefits of UC."
Companies need a way to make mobile phones and UC co-exist on the same plane, maximizing the benefits of both. However, the commonly deployed "over-the-top" Mobile UC apps make the problem worse, he said.
Research shows that only 5.6% of users regularly use such apps, making this a major pain point to be addressed on the way forward.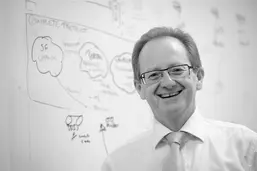 Andrew said the need for native Mobile UC is critical to solving this problem of poor adoption.
"What we call 'native Mobile UC' solves the problem of users ignoring UC apps. It integrates native mobile communications with the UC platform so that businesses can control mobile communications. Native Mobile UC turns mobiles into native extensions of the UC platform, just like they were landline extensions," he said.
This gives employees all the benefits of a landline, including business name identification, forwarding, conferencing, hold, etc., without leaving the mobile interface.
"To implement this, companies supply users with SIMs that are controlled by company IT managers instead of by mobile operators," Andrew explained. "Mobile communications, then, are integrated into the company UC platform via a cloud-based control plane. Finally, IT applies policies, controls routing, extends features to user mobiles, records mobile voice and text, and generally manages mobile communications as easily as landline communications."
You can learn more about our approach to Mobile UC and FMC with our Mobile-X service offering.
As for AI, UC Today reported that 78% of companies either have or plan to deploy it in their contact centers.
Andrew said AI in mobile UC present two imminent possibilities: AI-augmented UX and AI-assisted routing.
"A challenge with mobile UC is how to ensure users are engaged via the optimal UC tool for a given communication," he said. "Suppose a customer initiates contact with the company via text message. But in fact, a streaming view of the customer's computer desktop is needed to solve the problem."
An AI assistant monitoring communication recognizes this need, he said, suggesting a video session automatically and seamlessly.
Andrew also gave the example of how AI could route calls to the least expensive option, enforcing cost control policies without human intervention.
"Similarly, an AI agent could interact with a customer and then conduct skills-based routing of the contact, finding a representative specializing in the specific problem," he added, highlighting the real-time decision-making and how it could reduce cost/effort overheads.
"AI will drive a number of innovations in Mobile UC in the coming years," he said.
Check out the full article at UC Today here.