February 27, 2020
As I write this, I should be giving a speech in Barcelona. Instead, I'm helping my company to "keep calm and carry on" while much of the business world is reeling from uncertainty around the spread of Coronavirus.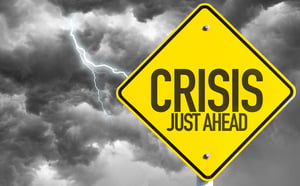 Everyone in the mobile communications industry was taken a bit by surprise when our sector's largest trade show, Mobile World Congress, was cancelled because of concerns over the virus.
The massive annual event should have taken place this week, with more than 100,000 attendees and vendors descending on Barcelona. But the Spanish government and show organizers determined it would not proceed in the wake of many of the show's largest sponsors pulling out.
And news is emerging that supply chains, travel and enterprise operations for many companies are broadly disrupted by precautionary measures and lock-downs spurred by the virus.
But for my company, it's mainly a reminder that going "Mobile First" and taking advantage of business-class mobile communications can be a key to corporate resilience and business continuity in the face of a disruptive crisis.
'Keep Calm and Carry On'
There's an old saying in business continuity planning: to make your company disaster-proof, never try to do something different in case of a disaster; instead, make sure that your day to day processes are robust and flexible.
And for us at Tango Networks, that comes from being Mobile First. The approach ensures that anyone on our teleworking team can be easily and reliably linked in with any conversation at the right time no matter where they are.
Mobile First is the hottest communications trend across the business world. It means corporations make mobile phones the primary communications tools of employees.
We've seen the strategy take hold in small and medium companies as well as massive multinationals, such as when accounting giant PwC went Mobile First for its UK operations.
In our company, the approach makes exercising our business continuity planning trivial. In this era of pandemic planning, we can simply tell everyone to self-isolate wherever is most appropriate for them. All business processes continue unaffected.
But for Mobile First to be a valid option, you need to ensure that mobile communications are truly business quality.
Mobile-X: Ready for business
Enabling companies of all sizes to employ business quality mobile communications is exactly what our Mobile-X service does.
In fact, using our own service is how we ensure that our distributed workforce members can communicate efficiently and professionally no matter where they are. Teleworking, remote working, virtual workplaces and work-from-home programs are increasingly critical to the operations of many companies like us. Our business-class mobile communications ensure our distributed team never misses a beat.
Key features of Mobile-X include:
Seamless integration with the company's Unified Communications platform, turning each employee's mobile into an end-point for his or her business number.
Users activate business calling features like transfer and conferencing on their mobile phones. It's like carrying a landline desk phone in your pocket.
A native phone experience that is intuitive and simple, doing away with the messy over-the-top UC apps that users hate.
Compliance with call and text recording, monitoring and archiving requirements, using the same recording tools you use with landlines.
These capabilities mean the mobile phone now can be relied on to deliver business quality communications across the distributed workforce. That in turn means our workers can be anywhere, even isolated because of Coronavirus concerns, and business will carry on without a hiccup.
Mobile-X is available through our great reseller partners. To learn more, shoot us an email at sales@tango-networks.com or fill out the form below.