November 14, 2023
Tango Extend will be in the spotlight at the upcoming Cavell Enable event for its ability to enhance Microsoft Teams to provide seamless mobile unified communications to the hybrid workforce.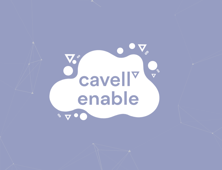 Cavell Enable on Nov. 28 in London will bring together more than 150 key players in the collaboration, cloud and communications markets to explore the extension of collaboration tools to BYOD mobile telephony.
The event will focus on how communications and collaboration service providers and resellers can tap new revenue streams with the new generation of telephony solutions, including mobile UC.
Industry experts have been raving about the benefits of our award-winning Tango Extend service, which allows employees in any location to stay connected to their businesses and their customers using their existing mobile phones with their business numbers and identities.
Extend takes advantage of modern eSIM technology to allow a fixed-line Microsoft Teams business number to be added to any mobile phone in minutes.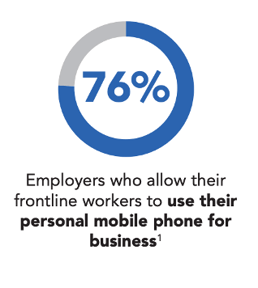 Extend enables any smartphone, including personal BYOD devices, to have two completely separate identities, one for business and the other for personal use.
The business line uses the business eSIM and carries the Teams business identity. It becomes part of a company's existing Unified Communications platform, operating with all of the benefits of a desk phone. Meanwhile, the employee's personal communications use the personal line eSIM and remain entirely private.
Remote workers no longer need to use an on-phone UC app for calls, but can make and receive Teams calls through the native dialer on their mobiles, which offers better call quality and longer battery life.
The BYOD Problem for Frontline and Hybrid Workers
At the event in London, we will present new research from September from Cavell which found that across multiple business sectors, 76% of employers allow their frontline workers to use personal mobile phones for business. When frontline workers in healthcare were asked whether they use their personal phones to conduct business, 56% of those surveyed said yes.
But much of this BYOD-for-business usage involves on-phone UC apps that deliver a sub-par voice experience and that employees find hard to use. Many frontline workers are also simply using their own personal mobile numbers to make business calls, which is completely outside the visibility of the UC system. Not only do these calls compromise business policy, but they could even introduce unnecessary personal risk for some healthcare and social workers.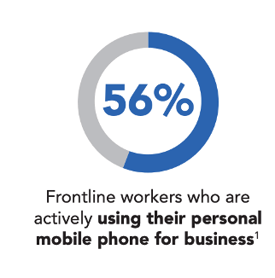 At the same time, the average monthly stipend paid by businesses to frontline workers to use their personal mobiles for business calls was found to be $53.
This means that employers are paying a premium for less-than-ideal business mobile communications and an unsatisfying user experience. IT managers have had little choice in serving the needs of the workforce and are looking for mobile innovation to service the collaboration needs of remote workers.
At the Cavell event we also will share Cavell's findings that the vast majority of IT managers are willing to retire traditional fixed-line desk phones in favor of "Mobile Only" options using eSIMs. The research further shows and that a large majority of employees are embracing this model and are willing to accept a BYOD business eSIM in their personal phones.
Extending Collaboration to Mobile Solves BYOD Issues
The Cavell survey established that 68% of frontline workers use Microsoft Teams or another collaboration tool in their roles, so collaboration solutions are already firmly established at the sharp end of the business estate .
That's why our Tango Extend solution has been winning so many awards and industry accolades for its ability to seamlessly extend the collaboration tools and business identity to mobile devices. Extend solves the BYOD for business challenge while delivering a superior user experience and more professional communications.
Extend seamlessly brings Teams to employees on-the-go and the deskless workforce, such as frontline, hybrid and gig workers in retail, delivery, service, education, finance and virtually any industry. Extend can be used by organizations of any size who have deployed Teams and want to enable more users to use calling plans when out of the office.
With business-class call quality and no need for expense claims or stipend payments, Extend is proving to be a more cost-effective solution to meet collaboration needs for virtually any business.
Join us at Cavell Enable to learn more about the exciting opportunities for mobile UC.
1- Source: Tango Survey Report, September 2023 by Cavell. Based on two studies: the first with telecoms/communications decision makers within 400 organizations based in the US, who have more than 50 employees; the second with 400 healthcare frontline workers based in the US