August 13, 2021
I was late to the virtual meeting. It's not because I was in another meeting that ran over. I wasn't caught up in another task. I wasn't grabbing a bite to eat.


No. I was trying to get one video conferencing app to let go of my laptop camera, so another video conferencing app could take over.
I finally gave up and turned to the one device I could rely on to get me into the meeting: I dialed in on my mobile phone.
Pretty much everyone in the working world has seen their jobs change in some fashion over the past 18 months. Those of us with pastimes that could adapt to Work-from-Home practices have learned new ways to communicate and collaborate.
And in chatting with colleagues, I have learned that many of them have experienced the same thing I have: communication fragmentation.
Here is a quick rundown of what I mean. On a regular basis, I use:
Four different video conferencing applications
Five different collaboration applications
Six different chat or messaging applications
Granted, my role is market-facing so I communicate with many different people at a wide range of companies using a wide range of communications tools.
But when I want to be sure the communication will be clear, jitter free, and professional, I turn to my mobile phone.
And now many companies are adopting hybrid work practices, with employees working part of the time in the office, part at home, and really just about anywhere they happen to be.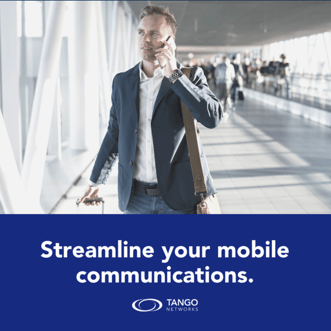 Mobile phones are the only devices delivering consistent, business-quality communications equally well at home, in the office, on the train, in the coffee shop, while driving, or when you are on the beach.
The New BYOD Question
The old Bring Your Own Device (BYOD) challenge originally meant that your IT department had to figure out how to prevent personal devices from introducing security risks or compatibility problems in the enterprise environment.
But today's BYOD question is also about how the company's professional image, brand and efficient communications practices can be maintained when employees are using their personal mobile phones.
Since everyone is using their mobiles to conduct business, your customers and partners may be receiving calls from your team using personal cell numbers with personal Caller IDs.
The technical challenge of course is that mobile phones have traditionally operated outside of the control of your business. With landline desk phones, every call came from your business number with your corporate ID because you control the system and all the communications it supports. Not so with cell phone communications, which are managed by mobile operators.
Thankfully, that's changing because of the new generation of Fixed-Mobile Convergence technology.
Making Mobile Ready for Business
The Mobile-X service from Tango Networks utilizes patented FMC technology to deliver the industry's most advanced Mobile Unified Communications.
Mobile-X ties any mobile phone natively into a corporate UC platform, creating full-featured Mobile UC.
This means any mobile phone - including personal phones - are now effectively extensions of the company communications platform. It's like you can carry your desk phone in your pocket.
The result is that business calls and texts that employees make on their mobiles are from the business number and carry the business identity.

These benefits are why the Mobile-X service is now the communications backbone for companies looking to maximize productivity of Work-from-Anywhere employees. That includes programs for working from home, deskless workers, remote working, telecommuting and business continuity. It also ends communications fragmentation for employees in hybrid work environments, and especially people on the go with mobile jobs, because now the mobile phone is the consistent tool for business quality communications.
Our Mobile-X service is available through our value-added reseller and CSP partners.
Just fill out the form to learn more: