December 30, 2021
The new opportunity for the communications channel is making personal Bring-You-Own-Device (BYOD) mobile phones into true business-ready devices.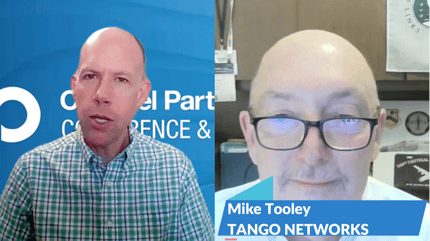 That was the focus of an exhibitor news desk interview with Tango Networks recently published by Channel Futures.
Mike Tooley, our head of U.S. Channel Sales, explained how the new Mobile-X Extend service takes our flagship offering to a new level, turning BYOD devices into secure business extensions.
In the video interview, Channel Futures Editorial Director Craig Galbraith asked Mike about our recently launched Mobile-X Extend service, which was highlighted at the Channel Partners Expo event in Las Vegas last month.
"Mobile-X Extend is really exciting for us," Mike explained, describing how the original Mobile-X solution enabled a SIM for business to be inserted into a mobile phone to connect the phone to a company's communications platform.
Mobile-X Extend raises the solution to a new level, Mike said, by enabling a device supporting two SIMs to have business and personal personas automatically applied. For example, a primary physical SIM card may be the personal line while a secondary eSIM can be a business line fully controlled by an employer.
Requiring no apps or Mobile Device Management or special user training, Mobile-X Extend gives a company direct, secure control over a SIM in a personal BYOD phone, effectively embedding a business phone line into the personal device.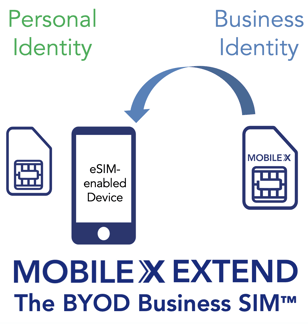 Companies now can manage business communications on employees' personal phones no matter where they are working. Companies can even record and archive business communications on BYOD devices, which addresses a major requirement for financial services organizations, some of which have received massive fines recently for failing to record such communications.
Meanwhile, all personal calls and texts remain private and separate from the company systems and control.
Mobile-X Extend is based on our award-winning, patented fixed-mobile convergence technologies, the foundation of Mobile Unified Communications, Mobile First and Mobile Only communications.
Businesses use our services to streamline operations with work-from-home, hybrid and work-from-anywhere flexibility. They can cut landline desk phones and eliminate expensive company-owned mobiles.
The service also brings fully integrated business-controlled communications to mobile employees, deskless employees and firstline workers.
We sell this service only through channel partners. Just fill out the form to learn more: