December 20, 2021
Letting employees use personal devices and phone numbers to conduct business just got expensive for one of the world's finance leaders.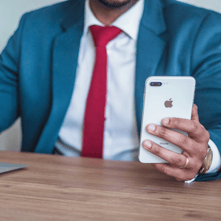 J.P. Morgan Securities was fined $200 million by US regulators for record-keeping violations because employees conducted regulated business activities on personal devices and with personal accounts.
In announcing the fines on Friday, regulators warned that similar investigations are underway against other major financial institutions.
We are seeing a longstanding problem now has significant financial consequences for the financial services industry.
Record Retention Rules
If you are a financial advisor orchestrating a time-sensitive securities deal, speed is everything. You want to enable your clients to act on an opportunity before it disappears.
Phone-tag can be the deal killer in this situation. If you miss a call to your landline desk phone, then you may have missed the opportunity altogether.
So many financial services professionals had been using personal phones and accounts to expedite and streamline communications.
This of course is the problem. These devices and applications are outside the scope of a company's communications recording capabilities.
In the US, the Securities and Exchange Commission requires that communications pertaining to a financial transaction involving securities must be recorded and retained. Similar records retention rules are in place elsewhere, such as the Markets in Financial Instruments Directive (MiFID) in the UK and rules enforced by the UK's Financial Conduct Authority (FCA) .
Generally, these rules apply to any communications ... phone call, text message and email.
But if these communications are taking place on a personal phone, with a personal number and personal accounts, how can a company ensure it has properly captured and archived these regulated communications?
Both Mobile And Compliant
Employees in the financial industry can be both mobile and compliant thanks to Mobile-X from Tango Networks.
And with our new Mobile-X Extend solution, the capturing of mobile calls and texts for compliance can be extended to personal Bring-Your-Own-Device (BYOD) mobile phones.
This means personal BYOD phones are now truly ready for business and can be used for compliant financial services communications.
Mobile-X Extend takes advantage of the eSIM technology supported in the latest models of smartphones.
The service turns a second SIM in a personal phone into an embedded business phone fully controlled by an employees' company.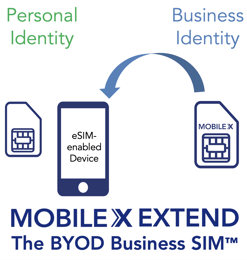 Most importantly, Mobile-X is what is called a "native mobile" service. That means it does not require any special apps, training or special steps by the user.
The employee simply uses the phone's native dialer to make calls or send SMS texts like they always have. When the communications are for business, Mobile-X Extend automatically routes those communications to the corporate compliance systems for recording and archiving.
But when the communications are personal, those calls and texts remain private and secure
This is possible thanks to our implementation of next-generation Fixed-Mobile Convergence technology, covered by more than 90 patents.
Work-from-anywhere Communications
Mobile-X Extend solves the mobile versus compliant conundrum for financial services organizations.
But it also dramatically simplifies communications for today's work models. GlobalWorkplaceAnalytics.com reports that even before the global pandemic, work-from-home programs and telecommuting were on the rise. Post-pandemic, the service reported, more than 80 percent of employees wanted to work from home at least one day per week, with half saying they would consider leaving an employer who did not permit it.
For companies adopting remote working practices, Mobile-X Extend significantly simplifies ensuring polished, professional company communications can be extended to all workers, including mobile employees, deskless employees and firstline workers as well as those in work-from-home, hybrid and work-from-anywhere programs.
With Mobile-X Extend, businesses are cutting landlines and desk phones in the office as well as the huge expense of allocating company-paid mobile phones. Employees no longer must carry two phones if they previously had been issued a company phone.
Ready to learn how your teams can be both mobile and compliant? Just fill out the form to learn more: