June 20, 2022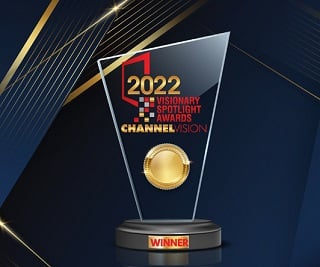 Tango Networks' Mobile-X Extend service has won a 2022 Visionary Spotlight Award from ChannelVision magazine.
The service was recognized for its unique approach to turning personal phones into business-ready Mobile Unified Communications extensions, ideal for hybrid work models.
ChannelVision announced the 2022 Visionary Spotlight Awards to recognize technologies and communications solutions that are changing the modern workplace.
The magazine covers communications solutions sold through channel partners such as resellers and communications service providers.
In announcing the awards, Beka Business Media president and CEO Berge Kaprelian said, "We had a record number of total entries, which made this year's competition tougher than ever. But at the end of the day, the companies named have proven they meet the challenges of today's changing workplace. "
This is the second year in a row that Tango Networks has received the award. This year our Tango Extend solution was recognized in the Enterprise Mobility category, highlighting the service's groundbreaking approach to fixed-mobile convergence.
Our service has won more than 10 best product and channel solution awards in the past two years.
Mobile-X Extend turns any mobile phone, including Bring-Your-Own-Device (BYOD) personal mobile phones, into a business-controlled extension of a company's communications system. That means all of a company's employees can carry a business line embedded in their mobile phones.
Tango Extend is unique in the industry because it requires no apps on on-phone clients. Instead, the solution enables all business communications to be managed by the user with the phone's native interface.
Work and personal communications on the phone are separated and secured as dual personas.

The business persona uses the business SIM, identity and number for communications. Business voice and text can be captured and recorded for records retention compliance or customer service quality monitoring.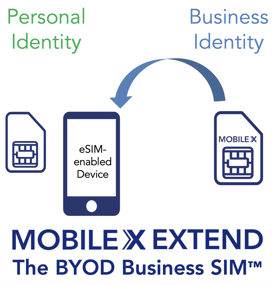 Personal communications remain private and use the employee's personal identity and number.
This extremely intuitive and simple operation make Tango Extend the ideal solution for hybrid work programs that have employees working from home, in the officer, or anywhere they happen to be.
Mobile phones are the only devices delivering consistent, instant, business-quality communications equally well at home, in the office, on the train, in the coffee shop, while driving, or on the beach.
For the first time, Tango Extend gives an employee's company direct control over business communications on personal phones, but without comprising the employee's private communications or personal phone contents. The result is a ubiquitous communications fabric that provides flexible communications for workers no matter where they happen to be, maximizing productivity and availability.
Tango Extend is used by companies for Mobile First and Mobile Only communications, and work-from-home, hybrid and work-from-anywhere programs. It brings fully integrated business communications to mobile employees, along with deskless and firstline employees such as in-home services technicians, healthcare providers, appliance installers and many more.
Interested in more detail on Mobile-X or reseller opportunities? Fill out the form and we will be in touch.