February 24, 2017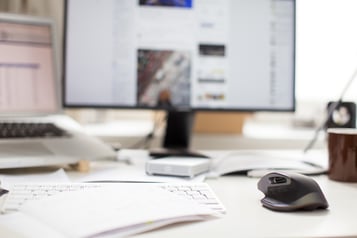 Some companies embracing the "Mobile First" strategy of communications are unlocking powerful new ways to boost productivity and efficiency.
Imagine this scenario:
A salesperson in the field needs to make an urgent call to a customer who is ready to buy. The salesperson is in transit so she uses her personal phone to make the call.
On the backend of the call set-up process, the salesperson's call is routed through the corporate communications system, so it appears to the customer to be dialed from the corporate number. That imparts a sense of professionalism and a polished appearance that is important to sales.
In addition, the call is automatically logged, recorded and attached in Salesforce.com, instantly creating a record of the interaction in the activities field of the sales opportunity record.
Now the salesperson can get on with selling, without worrying about the administrative overhead of logging her calls or transcribing the details of the interaction.
That's the power of workflow-enabled mobile communications.
Mobile First & Enterprise Applications
The Mobile First trend in enterprises is the natural evolution of enterprise mobility.
Going Mobile First is often initially justified as a cost saving measure. Companies look to retire desk phones, which can be expensive to purchase and maintain. Instead, the mobile device becomes the primary end-point for corporate communications systems.
Many companies often take the next step of Bring Your Own Device (BYOD) programs, letting employees use their personal devices with a subsidy or other program. This type of program of course means considering how requirements like call recording and monitoring will be met.
But beyond cost savings, going Mobile First can yield important operational efficiencies for the enterprise as a whole. There are obvious benefits from improved employee reachability and responsiveness. Customer satisfaction is higher when a customer with a problem can reach the right person to solve their problem on the first call.
But mobilized communications become even more powerful tools for enterprise efficiency when they are integrated with and synchronized with enterprise applications that include operational workflows.
The earlier sales example shows how integrating mobilized communications with the company's Customer Relationship Management (CRM) system can relieve salespeople from performing administrative tasks, such as record keeping. In fact, the integration of mobilized communications with CRM can produce a much richer, more detailed record of important interactions with customers.
Imagine that this level of communications integration can be applied to other enterprise workflows, such as:
New product design, prototyping and production
Warehouse management and inventory picking processes
Supply chain and vendor management
Business development and channel sales
Field workers, technicians, logistics and transportation
Each of these areas has been revolutionized by IT, with new applications, access to essential data, and devices to enable workers to get their work done more efficiently. Business Process Improvement (BPI) planning and tools seek to improve these processes.
Timely and efficient communication among workers and other stakeholders can yield great process benefits. If the workflow steps are directly integrated with the company's mobile communications, then the ability to collaborate, troubleshoot and generally interact with process stakeholders becomes that much simpler.
The result?
Enterprise processes that run more efficiently, produce better results, generate better experiences, and reduce downtime due to missed communications and inefficient interactions.
Process Workflows & The Kinetic Platform
The Kinetic Communications Platform from Tango Networks is the industry's first software-defined communications solution, able to integrate with and orchestrate across your PBX and Unified Communications systems for true mobilized communications.
The fact that the Kinetic Platform is software-defined means that it can easily integrate with your process workflows, providing the kind of benefits described in the CRM integration scenario earlier. The platform:
Synchronizes and optimizes mobile enterprise communications with enterprise applications such as CRM, ERP, inventory, and others.
Embeds the mobile device's "Green Button" into enterprise workflow, for a superior user experience with the device's native interface.
Makes voice, messaging and other communications applications available at the right time in the right form to streamline workflow and maximize operational efficiencies.
Automatically attaches call recordings, messaging, logs and other communications details in application workflow records.
If you plan to attend this year's Mobile World Congress, be sure to stop by our Pod #7UP.66 to check out the Kinetic Communications Platform.
In the next and final blog post in this series, we will explore how a Mobile First strategy and a BYOD strategy can support and improve each other.
Download the latest Trend Advisor on Mobility for the Modern Enterprise.