February 7, 2017
With the rise of employees bringing their own mobile devices into the workplace, keeping control of data without prohibitive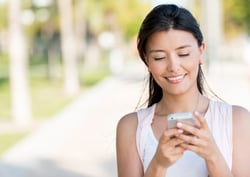 restrictions for users is a big issue for business. Mobile internet access is a particular concern, especially for those who are required to be fully compliant and secure for audit and regulatory reasons. Combine this with staff utilising roaming data on unsecure networks and you have a huge security headache.
As a result IT, compliance and legal teams in many organisations are in genuine need of a way to solve this problem of demanding users with smartphones that have uncontrolled and uncontrollable access to data networks, in a way that no other corporate device has.
For regular users the problem of getting a virus on a smartphone, or accidentally downloading something malicious, can be crippling as their phone mat be unusable. For businesses employing BYOD that phone may contain sensitive corporate data - emails, SMS's, documents, or spreadsheets, which could be compromising the data network.
In the most catastrophic cases what if a phone becomes compromised when out and about browsing on the mobile network, and is then actually used as an attack vector to target the corporate LAN when it is innocently brought back into the building and is allowed to access the WIFI, potentially bringing down a whole organisation?
There are simply too many weak points for hackers and system infections by virus'. With new regulations affecting small businesses this now becoming an issue for businesses of all shapes and size who have never needed to worry about such issues before.
Secure mobile data, even when roaming
Simetric have developed a solution via their Mobile-X unified communications product where call data, mobile, fixed line and SMS, can be routed via the organisations filtering and firewall implementations while they are away from the office. This then allows them to control their data, ensure it complies with policy and doesn't create vulnerabilities in the same way as when the device uses the corporate processes while on site.
Simetric's Mobile-X services support end user data to a smartphone, and also provide options for mobile broadband, M2M, UK roaming data, International roaming data, secure VPN data, and even private APN's. We can securely transfer any data to anywhere in any location, even while roaming.
Gavin Sweet, Managing Director of Simetric said "Secure data, calls, SMS, emails and internet usage, is becoming more crucial to businesses of all sizes. Mobile-X has gone a long way to bringing secure unified telecoms to organisation because everything is securely handled in the network. Now with the development of Mobile-X Data we can ensure that the data is securely routed via VPN or private APN to the corporate network with its security and policy controls. Closing the security loop while still providing call routing and handling, worldwide roaming, internal hunt groups and much more via a single SIM."
To find out more about secure mobile data contact us today.