May 4, 2020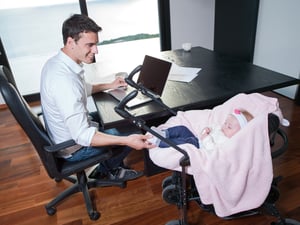 Many workers in many industries have experienced significant changes in how they do business over past months.
The COVID-19 Pandemic has caused Work-From-Home programs to be put in place by many companies for workers whose jobs can be conducted remotely.
The key to an effective Work-From-Home program is to ensure that company communications are seamlessly extended to the distributed workforce. In fact, done properly, a Work-From-Home program with integrated business communications can be a major productivity booster.
Teleworking, telecommuting, remote working, virtual workplaces and Work-From-Home strategies see varying degrees of success depending on the type of business.
But a clear, underlying common element of successful work-from-home programs is the ability to seamlessly extend business communications to the remote workers.
Ship a Desk Phone to Every Home?
Some companies have chosen to support their Work-From-Home programs by literally shipping a desk phone to all employees to use in their home offices.
That certainly might seem like a solution to ensure that the business communications are usable by these employees.
But think about the major headaches and hassles this involves:
Very expensive to purchase and ship, basically doubling your desk phone expenditures if everyone works from home
Remote support and troubleshooting of desk phone problems when you can't visit the employee homes to work on the phone directly
Deciding what to do with the desk phones when business returns to normal
Instead of going through the time and expense and hassle of placing a desk phone in every employee's home, what if you could simply make use of a phone system already in place there?
You can. Each employee's mobile phone can be turned into a seamless extension of your PBX or Unified Communications platform.
Business-class Mobile is the Answer
Our Mobile-X service is increasingly the choice of companies adopting telecommuting and Work-From-Home.
Mobile-X provides true business-class Mobile Unified Communications. Employees can use their mobile phone as a fully featured extension of your corporate voice communications platform.
Employees can forward calls, put them on hold, activate hunt groups, set up conferencing, operate extension dialing, all using the native interface of their mobile phones.
There is no need for over-the-top voice apps, which have poor quality and performance and are usually ignored by employees. Making a call is just like the employee has done for years, except the phone will automatically place the call from your business number.
That means not only are employees reachable for business calls, but also that the calls have the quality and polish that will properly represent your business.
Mobile-X enables compliant mobile communications as well, empowering you to record your employees' mobile calls and texts for monitoring and archiving.
The turnkey service also allows you to control the identity that your employees present to customers, prospects, or the community at large. All interactions are using your business numbers and brand name, not an employee's personal number.
Mobile-X: Empowering Your Teleworkers Today
Tango Network's Mobile-X is boosting remote worker productivity by integrating the native dialer and text messaging into the corporate communications platform. It's a powerful zero-training solution for teleworking communications.
Shoot us an email at sales@tango-networks.com or fill out the form below to learn more about Mobile-X: