February 22, 2017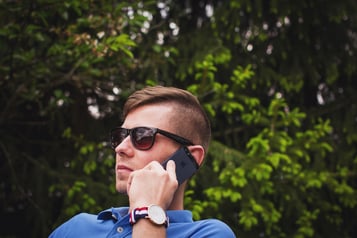 Think about the world that Millennials know.
If you were born between the early 1980s and mid 1990s, you are what demographers and marketers call a "Millennial."
Those in that age group have …
… never known a world without PCs.
… used mobile technology since early adulthood if not childhood.
… often adopted mobile technology as their primary tool of communication.
When it comes to personal communications, for example, studies show that a majority of Millennials "cut the cord" long ago and use only wireless devices instead of the traditional landline.
Millennials are inseparable from their smartphones. As a Bank of America study reported last year, 39% of Millennials say that they interact with smartphones more than they engage with other people.
Millennials have come of age at the same time as the web and smart devices, so they have had wide ranging impacts on these technology trends.
For example, web site designers long ago adopted an approach to site design that assumes mobile devices will be used first and foremost for viewing the site. A large portion of Millennials will never even use a PC to view a web site, a trend cited in one study indicating a drop in desktop usage for Internet surfing.
Of course, these behaviors are bound to have an impact on corporate IT and communications operate as these "Mobilized Millennials" flood the workplace, soon to be followed by the even more tech savvy Generation Z.
Mobility in the Modern Enterprise
Technology analysis firm IDC predicts that by 2020, nearly 75% of the US workforce will be mobile.
This means that corporate communications tools will no longer resemble the tried-and-true landline and desk phone combination of years past. The Millennial preference for mobile devices as the primary communications end-point has spread to enterprise voice communications.
Nowhere is this more evident than in Bring Your Own Device (BYOD) programs that are increasingly common in enterprise environments, yielding increased flexibility and worker productivity.
Even for enterprises that do not have formal programs permitting BYOD, legal experts advise those companies to assume that employees are going to use personal devices at some point anyway, and plan accordingly.
A chief benefit often mentioned about BYOD programs is the comfort level of users and the superior user experience.
If a user is operating his or her own personal device, then it can be assumed that they are generally comfortable and more efficient with how that device operates. This in turn should mean the user is more productive and less frustrated by a device interface they do not understand.
To make this approach most effective, the user's device should be seamlessly integrated into the enterprise communications systems. In other words, the personal device should behave just like a desk phone that traditionally would be connected to the PBX or Unified Communications server.
That means the mobile phone's native dialer – "The Green Button" – should be integrated into the system whenever possible and that calling features like transferring and conferencing should be operable from the device's native controls.
Tango Networks offers a range of solutions that significantly simplify the mobilization of enterprise communications and integrate mobile devices including BYOD into the corporate communications systems. The solutions enable companies to adopt true mobility for enterprise communications while maintaining compliance with recording and monitoring policies.
We have helped numerous companies to create future-proofed mobilized communications environments that are ready for Millennials, Generation Z and generations to follow.
If you plan to attend this year's Mobile World Congress, be sure to stop by our Pod #7UP.66 to check out our Kinetic Communications Platform.
Download the latest Trend Advisor on Mobility for the Modern Enterprise.