May 17, 2019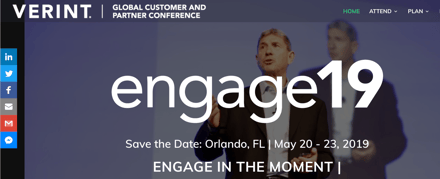 Enforcing mobile communications recording rules is a critical requirement for today's mobile-enabled businesses.
We will be highlighting the latest solutions for mobile communications recording at Verint's Engage19 customer and partner conference, starting Monday in Orlando, Florida
Mobile-X from Tango Networks is a key enabling service for modern business communications, including Mobile Unified Communications, mobile workforce communications, and programs for remote working, work from home, telecommuting and business continuity. The service brings next-generation fixed mobile convergence technologies to communications for the distributed workforce.
Visit us at Booth P-21 or fill out the form below to schedule a demo.
Our Compliant Mobile Communications solutions enable you to capture and record mobile communications, including voice and SMS texting. Our solution extends Verint Compliance recording, customer engagement and workforce optimization solutions to any employee mobile phone.
The solutions are extremely easy to use and require no changes to how employees use their devices.
While you are at Engage, don't miss a presentation by Pam Strong, our VP of Global Channels: Capturing the Mobile Workforce: Are you Compliant? She will present on Tuesday, May 21, at 10:30 am.
Are you an IT or compliance manager at a company with a mobile or distributed workforce? Meet us at Engage to see how compliance and mobile communications can work seamlessly together.
Are you a Compliance or Recording solution reseller or Unified Communications channel partner? Meet us at Engage to learn more about our new channel partner program. It gives you best-in-class marketing support, co-op marketing resources, training and many other benefits.
Fill out the form to meet with us at Engage 19 to explore mobile recording solutions.