May 10, 2019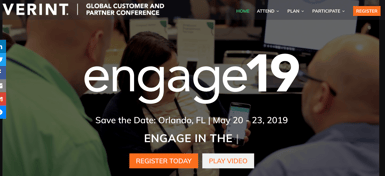 Today's workforce is a mobile workforce. Mobile phones are now the devices of choice for business communications in companies large and small.
But how do you keep mobile communications compliant with recording and archiving requirements?
To find out, meet with us at Verint's Engage19 customer and partner conference, May 20-23 in Orlando, Florida.
Going "Mobile First" can enhance worker productivity, increase communications efficiency and tap distributed staff and resources in your organization. But you also need to enforce recording and monitoring policies for your employees when they make mobile devices their primary tools for business communications.
Now Mobile-X from Tango Networks is the premier communications solution for companies implementing work-from-home, remote worker, teleworker, telecommuting, connected worker and business continuity programs.
Our partnership with Verint enables us to extend Verint Compliance recording, customer engagement and workforce optimization solutions to any employee mobile phone.
Our Compliant Mobile Communications solutions enable you to capture and record mobile communications that need to be compliant with monitoring or archiving rules. The solutions work unobtrusively, requiring no changes to how employees use their devices.
We are enabling financial services organizations, companies with customer service representatives, distributed enterprises, and operations with field workforces to record communications and take advantage of increased mobility at the same time.
At Engage19, Pam Strong, our VP of Global Channels, will present a session on enforcing compliance rules for mobile workforces:
Capturing the Mobile Workforce: Are you Compliant?
Tuesday, May 21, 10:30 am

In today's world, mobile communications are the primary form of communications. How are you enforcing compliance requirements when communications extend to the mobile user? Tango Networks' mobile solutions extend your Verint solutions to encompass all your employees' mobile communications. In this presentation, hear use case examples of mobile communications capture and record; how workforce optimization and customer engagement can be extended to mobile users; and special compliance considerations for financial firms, companies managing field workforces, and others.
Are you an IT or compliance manager at a company with an increasingly mobile and distributed workforce? Meet up with us at Engage to see how compliance and mobile communications can work seamlessly together.
Are you a Compliance or Recording solution reseller or Unified Communications channel partner? Meet up with us at Engage to learn more about our new channel partner program. It gives you best-in-class marketing support, co-op marketing resources, training and many other benefits.
Fill out the form to meet with us at Engage 19 to explore mobile recording solutions.