October 1, 2018
Mobile communications are the lifeblood of today's enterprises.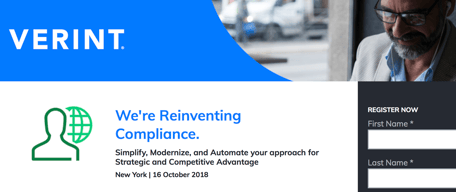 Employees increasingly rely on mobile phones as their primary communications tools.
Financial services companies are finding new ways to harness mobility to boost employee productivity and responsiveness.
But if you support a mobile workforce for a financial services company, how do you ensure mobile voice and text communications are compliant with recording and archiving regulatory rules that govern your enterprise?
Reinventing Compliance: Don't miss the Verint Compliance Alliance Workshops
Tango Networks is partnering with Verint to highlight the best practices for communications compliance at the upcoming Compliance Alliance workshops in New York, Toronto, Zurich, London and Frankfurt.
Mobile-X from Tango Networks is the centerpiece of a wide range of use cases, including Mobile Unified Communications, mobile workforce communications, and programs for remote working, work from home, telecommuting and business continuity.
The workshops will focus on:
Proactive Compliance – prevent non-compliant activities from occurring and remove the need for "after-the-fact compliance."
New ways of working – unlock the benefits of state-of-the-art solutions while driving enhanced value from your legacy data.
Super-charging Oversight and Analytics – with data from multi-modal unified communications (such as Skype for Business and Cisco Jabber), speech analytics, and AI-based assurance.
Automation – Verifying compliance or monitoring transactions shouldn't be time and resource-hungry task anymore.
Sustainable Transformation – Take a holistic approach, reduce complexity and increase compliance effectiveness - sustainably.
Click the links below to learn more and register for the workshop most convenient for you:
Learn more about the New York workshop.
Learn more about the Toronto workshop.
Learn more about the Zurich workshop.
Learn more about the London workshop.