November 15, 2018
PwC made headlines earlier this year when it announced it was going "Mobile First" with communications.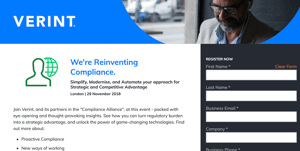 That meant the accounting giant's 18,000 employees in the UK would use mobile phones as their primary communications tools instead of traditional desk-top landline phones.
It's part of a trend across the financial services industry, as firms unlock new modes of mobile-enabled enterprise communications to improve responsiveness, streamline customer service, and boost productivity.
The Guardian quoted a PwC spokesperson about the firm's embrace of the trend: "It is all about changing working practices – staff are a lot more agile and flexible. They may be working for clients or working from home. And offices are now more open-plan, and with hotdesking the use of landlines is something we just don't do any more."
But mobile-enabling your financial services workforce means you still must ensure that communications are in control and meet the compliance requirements for recording and retention.
Reinventing Compliance: Don't miss the Verint Compliance Alliance Workshop in London
Tango Networks has partnered with Verint to highlight the best practices for communications compliance at the upcoming Compliance Alliance workshop on November 29 in London.
Incorporating a breakthrough implementation of fixed mobile convergence technologies, Mobile-X from Tango Networks dramatically improves mobile communications for a distributed workforce, including Mobile Unified Communications, work-from-home, remote worker, teleworker, telecommuting, connected worker and business continuity programs.
The workshop will focus on:
Proactive compliance – prevent non-compliant activities from occurring and remove the need for "after-the-fact compliance."
New ways of working – unlock the benefits of state-of-the-art solutions while driving enhanced value from your legacy data.
Super-charging Oversight and Analytics – with data from multi-modal unified communications (such as Skype for Business and Cisco Jabber), speech analytics, and AI-based assurance.
Automation – Verifying compliance or monitoring transactions shouldn't be time and resource-hungry task anymore.
Sustainable transformation – Take a holistic approach, reduce complexity and increase compliance effectiveness - sustainably.
Click the link below to learn more and register for the London workshop:
Learn more about the London workshop.