December 7, 2017
We've been talking about Call Recording and MiFID II for what seems like ages. No matter how bogged down you are by discussions on that, and the looming GDPR legislation, there's no getting away from it MiFID II arrives on 3rd January 2018.
Dubber, call recording that just works
We announced a few weeks ago that we have added Dubber Call Recording to our Mobile-X offering. Dubber is a brilliant frictionless call recording service which just works. There's no fiddling around, users don't need to learn new software, it doesn't need turning on when you want to record a call. And what's more, it helps you become MiFID II compliant.
The real magic happens in the cloud
Our Dubber call recording solution does all the recording securely in the network so there's no need to worry about security issues or uploading to the cloud after the fact. When Dubber is switched on all calls, regardless of whether on mobile or landline, are recorded and stored. The real magic of Dubber is in the secure portal. In here you can:
See all the calls made from and received by a given number
Play a recording of the call
See details of calls, including day, time and length of call
Quickly share the call recording via email
Tag recordings so they can be grouped and searched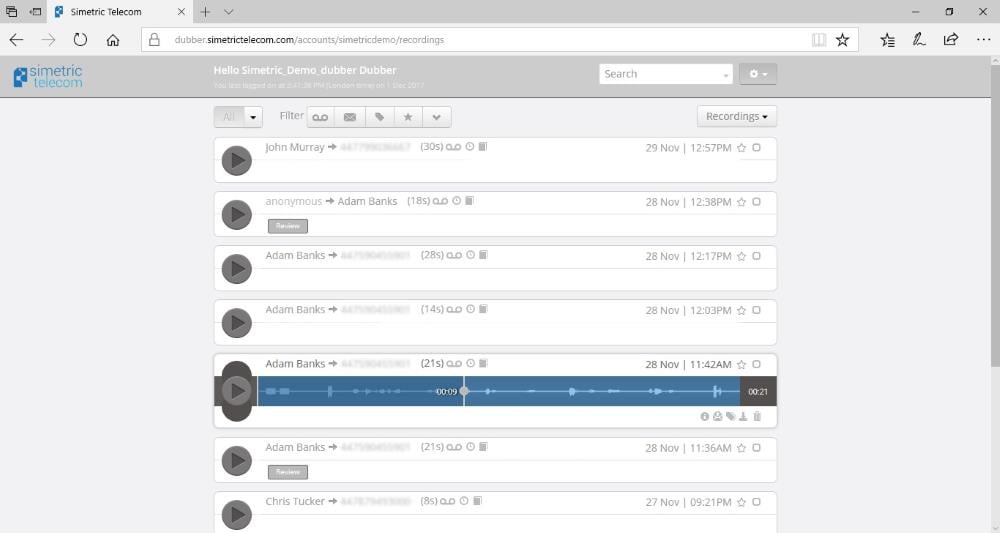 And one more amazing feature…
Meet Zoe - call recording intelligence modules
Dubber's 'Zoe' allows deep insight into the content of your communications. Zoe's key features provide a host of powerful solutions including smart keyword search and sentiment analysis.
Keyword search allows you to intelligently track specific phrases and keywords used in the natural language of recorded calls. Using powerful voice tools, Zoe can look through all your calls and pick out terms you want to search for, filtering your results accordingly.
This fantastic tool has a wide range of uses.
Tracking conversational topics and themes through general language analysis
Identifying fraud, mis-selling or passing off or other problematic cases
Monitoring signification transactional or contractual phrases, such as sale, advice, order
Search for marketing tags in conversations with your call centre
Identification of important customer service indicators, using key terms such as faulty, damaged, bad service etc

Zoe will even be able to tell how your callers are feeling!
Coming soon! Zoe call sentiment is achieved by analysing characteristics of the speaker's tone of voice, stress levels and speed of speech. Additionally, specific phrases are analysed to harness a comprehensive understanding of the caller's sentiment.
Helping with MiFID II compliance
Dubber call recording is a really powerful tool when combined with Mobile-X or any of the Simetric Unified Communications products. On top of all these features, adding the system can help you become fully MiFID II compliant by fulfilling the vital call recording and storage requirements of the legislation.
Record keeping of calls containing financial advice
Recordings stored for 5 (or 7) years
Secure and restricted access
Retrieval upon request
Audit Trailing individual recording activities