July 12, 2023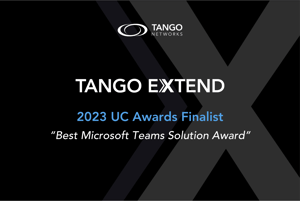 Tango Extend by Tango Networks has been named a finalist for the "Best Microsoft Teams Solution Award" in the 2023 UC Awards.
Awarded by UC Today, the UC Awards will recognize the achievements and contributions of the brightest minds and trailblazers in the UC industry at the virtual UC Awards ceremony on July 27.
In covering the recent launch of our Teams solution, UC Today previously reported that "Tango Extend's potentially groundbreaking solution for frontline workers signals a welcome trend in developing excellent technology for a workforce that hasn't traditionally had access to the most significant innovations of the UC and collaboration boom of recent years."
Tango Extend "transforms mobile phones into an extension of a Teams-enabled fixed-line phone number from certified operators," UC Today wrote. "The service leverages Teams' SIP Gateway technology to mobilize fixed-line phone numbers.
"This allows employees working remotely or on the go to make and receive Teams calls via the native dialer on their mobile phones."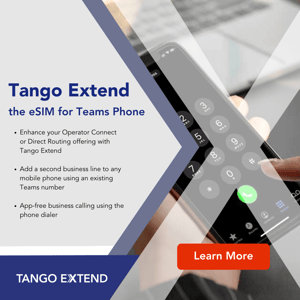 Tango Extend's eSIM solution for Microsoft Teams represents an industry breakthrough in Mobile Unified Communications and essentially creates dual identities on a personal device by using an eSIM as the business line.
Meanwhile the existing personal eSIM remains private and secure. This means that personal communications and business communications are completely separate and secure and can even use different mobile networks.
With this solution, customers receiving calls from staff equipped with a Tango Extend eSIM are not confused by receiving a call from a personal number. They know immediately that the company is calling them.
Also, if the Teams user has other Teams endpoints too, such as desk phones and soft clients, these will ring simultaneously with the mobile device, offering complete choice of which device to answer the call on.
Based on our fixed mobile convergence innovations, Extend is app-less and doesn't require special configuration or new licenses. It will bring about huge gains in productivity, while reducing communications costs for companies of any size. Extend also allows for business mobile call and text recording and archiving when required, as well as for customer quality assurance.
Tango Extend allows remote workers to work as if they're carrying a desk phone in their pocket or purse – and it's easily accessible through their very own device they already know and enjoy using.
"Microsoft Teams and Microsoft Teams Phone are powering collaboration and enterprise-grade calling wherever work happens, in the office, at home or on the road," Mahendra Sekaran, Vice President of Microsoft Teams Engineering, said in a quote at our launch as reported in UC Today.
"Tango Extend provides another approach to deliver voice services to Teams Phone users by extending fixed lines to mobile devices and enabling a single business number that works across endpoints."
Check out more details on how Tango Extend will mobilize your Teams environment here: https://tango-networks.com/tango-extend-for-microsoft-teams/