July 22, 2021
Our Mobile-X service has won a Communications Solutions Product of the Year Award from TMC.

The annual award honors exceptional products and services that facilitate voice, data and video communications that were brought to market or greatly improved upon in the last twelve months.
"We are delighted that TMC has recognized our breakthrough Mobile-X service with this honor," said Douglas Bartek, CEO of Tango Networks. "Mobile phones are today's most important business communications tools and our Mobile-X service ties any mobile phone directly into a company's communications platform.
"Employees are carrying the equivalent of landline desk phones in their mobile phones, enabling high-quality business communications no matter where they work."
About Mobile-X
The Mobile-X service transforms any mobile phone into a company-controlled endpoint for employees working from home, in the office, while traveling, or anywhere else they work.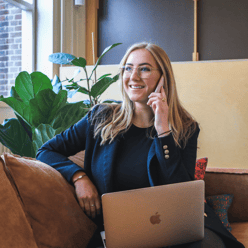 Covered by more than 90 patents, Mobile-X incorporates next-generation fixed-mobile convergence technologies that enable distributed employees to communicate exactly as if they were in the office. Their mobile phones become extensions of the corporate communications platform, without needing any special apps or training.
Mobile-X solutions include Mobile Unified Communications, Mobile First and Mobile Only communications, and programs for teleworking and hybrid work models, mobile employees, and business continuity communications.
Mobile-X is available solely through Tango Networks' value-added resellers and communications service provider partners.
"Congratulations to Tango Networks for being honored with a Communications Solutions Product of the Year Award," said Rich Tehrani, CEO, TMC. "Mobile-X is truly an innovative product and is amongst the best communications products and services available on the market today. I look forward to continued excellence from Tango Networks in 2021 and beyond."
Click here to learn more about this exciting new award.