October 12, 2017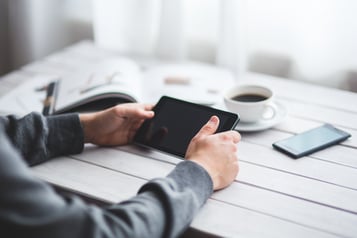 If you manage communications or information technology for a mobile workforce, then you know the headaches that can bring.
Users have trouble with configuring and managing mobile phones and need a lot of hand-holding and support.
They ignore the designated mobile phone apps you want them to use and instead use their own "shadow IT."
They communicate sensitive or protected information on phones you cannot see or control, potentially violating your compliance mandates.
They make calls and send texts to customer and others on phones that are outside the scope of your workforce optimization (WFO), CRM and other business process applications.
In short, managing the mobile workforce can be a major pain.
At Tango Networks, we have helped companies around the globe to make the most of mobile, and, in fact, maximize the value and productivity gains that a mobile workforce makes possible.
Here are three common principles that we've seen in the most successful enterprise mobility programs.
1. Not simple = not used

A common approach to mobility management is to install a variety of apps that you require your users to correctly operate to perform certain tasks.
But unless these apps are incredibly intuitive and simple, they will not be used because users will ignore them and default to the tools they understand and use most frequently.
So, for example, you might require a user to operate a special calling app so that their calls to customers can be recorded or logged. But many of the calling apps commonly deployed with voice communications systems are clunky, confusing, or perform very poorly.
The result? Your busy user on the go is probably going to place calls with his native mobile phone interface and then beg forgiveness later.
The good news is that for many modern phones, the native dialing interface can be directly integrated into your existing communications systems.
That's the ultimate in the simple experience for the user. Our Mobile-X has provided this capability to provides the ability to integrate the mobile device's "Green Button" directly into your corporate communications systems.
So the platform turns mobile devices into the equivalent of desk phone extensions, enabling users to transfer call, conference multiple users, place a caller on hold, and execute other common business features. You manage users, features and other settings for the mobile phones just like you manage traditional landline phones. And it supports personal devices in a Bring Your Own Device (BYOD) environment.
The result is a user experience that is extremely simple and intuitive, decreasing your support and training costs while enhancing productivity.
2. Synchronize & Integrate Mobility with Business Applications

Many companies have deployed business applications and workflows to streamline operations and increase productivity.
Some of these, such as WFO and Customer Experience Management systems, are tied to the communications systems. So, for example, a call center agent's interaction with a customer may be captured for analysis and training purposes by a WFO system.
But until recently, these systems did not encompass mobile devices in the same way they do traditional landline phones.
Mobile-X solves this problem, extending your business applications to encompass users on mobile phones.
For example, our Customer Engagement Mobility Solution enables you to automatically extend your existing WFO system mobile devices. Now a field service technician's call from a mobile device to a customer is in scope for your WFO and customer engagement process.
Similarly, our Kinetic platform enables you to integrate and synchronize mobile communications with other business applications. You can perform mobile call recording, automatic record updating in CRM, real-time policy enforcement, and other time-saving and compliance boosting actions.
3. Make policy compliance painless
Compliance with logging, archiving, recording, privacy and security policies continues to be a challenge for companies looking to make the most of mobile technology.
But this compliance is not optional; it's a matter of auditing and regulatory scrutiny for companies in finance, healthcare, education and many other sectors.
When you consider compliance of communications on mobile devices, the usability issue again becomes a stumbling block. If the apps you require for communications are hard to use or perform poorly, users will do end runs around them and potentially violate compliance policies.
Mobile-X makes such headaches go away. You can automatically enforce compliance policies across all your users' mobile devices with your existing compliance tools such as call recording systems. That's true even of BYOD devices.
Mobile communications with Mobile-X are simple and intuitive, so your users will use them and not unauthorized apps that are outside the scope of compliance.
Mobile-X from Tango Networks is a key enabling service for modern business communications, including Mobile Unified Communications, mobile workforce communications, and programs for remote working, work from home, telecommuting and business continuity. The service brings next-generation fixed mobile convergence technologies to communications for the distributed workforce.
Contact us today for a personalized demonstration of enterprise mobile UC on Mobile-X.