March 23, 2018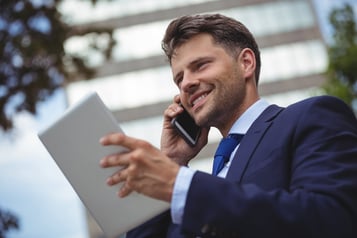 Business mobility is no longer optional. To remain competitive, companies need to enable employees to be reachable and responsive no matter where they are.
The truth is that every workforce is a mobile workforce, and the most successful companies are rethinking their communications applications, systems and policies with mobility in mind.
Here are three best practices we have seen companies adopting to maximize the impact of mobile devices and new application technologies.
SMS Text Enable Your UC
Surveys show that consumers overwhelmingly want the ability to communicate by text message with your customer-facing employees. In fact a recent survey shows that 52% would prefer to use text messaging with customer support instead of the current method.
In fact, AT&T reports that 150 million texts are sent to landline numbers every day, even though those numbers may not be text enabled.
But at the same time, this text communication needs to be compliant with recording, archiving, logging or quality assurance requirements.
The answer lies in SMS-enabling your users' UC clients. That means your users can send texts to anyone on any mobile phone, but at the same time these texts will be in your control and captured by your recording tools.
For example, users of Cisco Jabber clients can send texts to external parties via a SMS-enabling service that permits you to capture and log those communications. (Learn More).
Adopt Mobile UC
Traditionally mobile communications are out of the direct control of enterprise IT. Only a mobile network operator or wireless provider is actually in direct control of the voice, text and data services used by your corporate users.
But you are in direct control of your other critical services and IT resources, such as desk phone voice, Internet access, on-site networking, business application access and others.
In this day and age, why are mobile communications different?
The most successful mobilized companies focus on turning mobile devices into fully controlled end-points of their Unified Communications systems and services. This "Mobile UC" approach allows the enterprise IT managers to control mobile phone communications as if the user carried a desk phone in their mobile phone. (Learn More)
In fact, some companies are going "Mobile First," meaning they treat the mobile phone as the primary communications device for all employee communications.
Enable Compliance Across All Channels
Organizations in finance, government, healthcare, education and many other sectors must ensure communications are compliant with a variety of rules and regulations.
These include the need to keep patient or client information confidential or to record and archive communications with an external party. In some cases, a company may want to monitor and record customer communications for quality and training purposes.
The problem is that so much of our communications can take place outside of the scope of the recording, monitoring and logging tools.
The most successful mobile-enabled companies will integrate the mobile communications into their compliance processes, enabling mobile calls and texts to be captured by compliance tools for recording, analysis or other activities.
For example, many companies have adopted technology that enables them to use their existing recording systems and services with mobile communications. (Learn More)
New Solution Partner Opportunities
Tango Networks recently launched Mobile-X, the industry's first cloud-powered enterprise mobile convergence solution. Mobile-X harnesses cloud technology to "mobile enable" an enterprise's communications, compliance and business application systems.
Mobile-X is being made available to enterprise customers solely through Tango's select channel partners. Tango Networks offers extensive support to its resellers including marketing opportunities, demand generation campaigns and sales enablement programs.
Mobile-X from Tango Networks brings next-generation fixed mobile convergence technologies to communications for the distributed workforce. Now workers in or out of the office can have seamless corporate communications, including Mobile Unified Communications, mobile workforce communications, and programs for remote working, work from home, telecommuting and business continuity.
To learn more about becoming a Mobile-X partner with Tango Networks, please click here.