February 5, 2019
Mobile phones are now overwhelmingly the devices of choice for most communications.
According to The Guardian - Businesses across the UK are increasingly moving away from landlines. In 2010, UK firms had more than 10m landline numbers, but by the end of last year that had fallen by 35% to 6.4m, according to the communications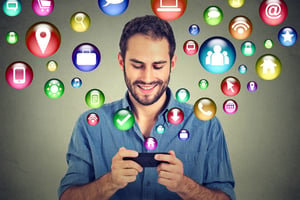 regulator Ofcom.
The time spent by businesses on landline calls has halved, from 38m minutes in 2010 to just under 19m last year.
And the same revolution of cord-cutting is taking place in enterprises. Among many examples, accounting giant PwC went "mobile first" with its 18,000 employees in the UK last summer.
On top of this, researchers report that text messaging, an application that reached widespread adoption thanks to ubiquitous mobile phones, is now the communication method preferred by many consumers for interacting with businesses.
At Simetric, now part of Tango Networks, we have nearly 15 years of success in helping enterprises to mobile-enable their communications and boost the productivity of their increasingly mobile workforces.
Here are three best practices and lessons learned about enterprise mobility based on that experience.
1. Make it easy to use
For years, Unified Communications vendors and suppliers of traditional enterprise telephony products have offered mobile apps to extend those systems to mobile device.
And for just as many years, market researchers have reported that the adoption of these apps is pretty much nil.
Why? Because the apps are messy, non-intuitive, and add extra steps to common tasks that employees need to perform. Simply put, employees won't use them because they don't like them.
And as every IT person knows, an enterprise technology that users reject is dead in the water… a waste of time, effort and resources.
This is why our solutions have first and foremost been about connecting the mobile phone directly to the enterprise communications systems.
In other words, you need to make the experience for the user as simple as operating their mobile phone's native interface to make a call or send a text message.
We're proud to hold more than 60 granted patents on our approach to this innovation, which involves embedding enterprise-directed call control and policy enforcement in the mobile network itself. That does away with the messy, poorly performing over-the-top apps that legacy approaches relied on.
2. Don't give up control
Inherent in the approach I just described is the concept that your enterprise IT department should have direct control over mobile communications.
When you consider every other form of IT – Internet access, networking, cloud assets, storage, security, landline telephony and so on – your IT department exercises direct, granular control. User administration, policy enforcement, access control, routing and configuration and many other parameters are directly managed by your IT team.
However mobile communications alone are uniquely outside IT's control. Of course, this anomaly is an artefact of how the mobile industry developed and its technologies were adopted.
But today's cloud technologies, mobile network virtualization and ubiquitous mobile access make it entirely possible for enterprises to directly control the mobile communications and services that their employees use.
3. Don't forget compliance
Now that mobile communications are increasingly the main form of business communications, the regulations over communications archiving and retention apply to them just like with landline communications.
It's unequivocally clear that regulators consider mobile communications to be in scope of the regulations for record retention. This in turn means you must extend your compliance tools for capturing and recording communications to cover mobile voice and text messaging as well.
In other words, migrating your business communications to mobile means you must also migrate your compliance processes and tools to mobile.
See it at MWC19 in Barcelona
All three of these key enterprise mobility capabilities will be on display in Tango Networks' stand at Mobile World Congress in Barcelona, February 25th to 28th.
Join us at stand 6I28 to see the latest evolution of our offerings to support your Mobile Unified Communications, Compliant Mobile Communications Recording and compliant Enterprise Text Messaging requirements.
Thanks to our recent acquisition by Tango Networks, our new offerings are the industry's first to seamlessly integrate "mobile native" voice, text and data communications with your corporate communications systems.
This creates a ubiquitous, global communications fabric in your direct control, covering all your employees in any location around the world.