December 2, 2021
We're in the post-desk-phone era.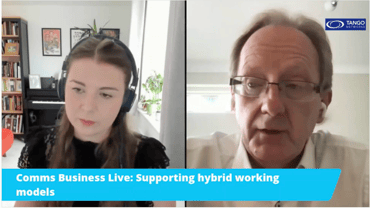 That's the message Tango Networks Executive Vice President Andrew Bale imparted recently to Comms Business magazine, a leading publication for the UK's ICT Channel. A clip of his interview with editor Charlotte Hathway can be viewed at https://youtu.be/OvgvphHHfgo.
Even companies that are spurring people to come back to brick-and-mortar workplaces recognize that all work will no longer be done from one location, Andrew says.
"The reality now is that even companies that are strongly encouraging people to come back to work recognize that more of their work will not be done at one known, owned position in a company," he says.
Some will be at home, some at a coffee shop, and some on the road, as he was recently, taking a conference call from an important partner from a motorway station.
The new hybrid workplace model necessitates remote workers have the best mobile communications tools available. And once they're in place, there's no need to duplicate services with a desk phone, Andrew explains.
The Mobile-X service from Tango Networks is the industry's prime example of native mobile communications that are integrated directly into a corporate Unified Communications deployment. The service's advanced Fixed-Mobile Convergence technology allows employees' mobile devices to operate just like desk phones with all of the needed business features but without the hard-to-use mobile apps.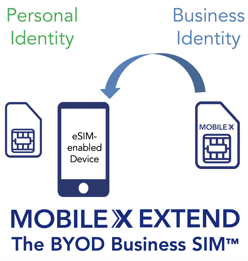 Our new Mobile-X Extend offering even allows personal BYOD devices to be used for business without a mishmash of user identities. Extend embeds a business line in a personal phone by giving the business secure control over a SIM in a modern multi-SIM phone. Now all business calls carry the company number and identity while personal calls remain private.
Businesses use Mobile-X for Mobile First and Mobile Only communications, and work-from-home, hybrid and work-from-anywhere flexibility. It brings fully integrated business communications to mobile employees and deskless employees.
Mobile-X is available only through our channel partners. Want to learn more about Mobile-X or reseller opportunities? Fill out the form and we will be in touch: