May 23, 2019
Cord cutting is now the norm for businesses around the world.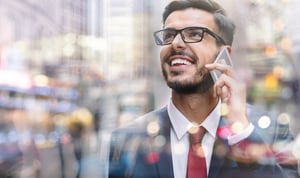 Entire work environments and business processes are now designed for workforces that are distributed, getting stuff done remotely from home or Starbucks or on the road. Teleworking, remote working, virtual workplaces and work-from-home programs are increasingly critical to the operations of many businesses.
So it's increasingly common for businesses to cut the telephone cord and go "Mobile First" by making mobile devices the primary communications tools for the distributed workforce.
This is why Mobile Unified Communications represents such an important opportunity for resellers, system integrators, hosted providers, communications service providers and other members of the IT and telecom channel.
Mobile UC basically means taking Unified Communications applications like voice, messaging and data and making them available to the distributed workforce on mobile phones.
If you sell IT and telecom products or services to enterprises and SMB, how are you enabling your customers to adopt the new mobile mindset and maximize the productivity of their distributed workforces with Mobile UC?
Here are three considerations for how to tackle this important new opportunity.
1. Mobile UC should be 'business first'
Think about how mobile communications have evolved for the past two decades. The vast majority of development, service focus, marketing and feature sets catered to consumers.
Handsets, services, and management features have been tailored to the needs of the consumer user. Even the largest, most powerful enterprises have had to settle for services that were designed for consumers, with the only real difference between service offerings being how cheap the minutes and gigs of data are.
But the needs of enterprises and SMB are dramatically different from those of consumers. Enterprises need to capture and record certain calls and messages. They need to enforce security, privacy and safety policies regarding where and when communications can take place. They need standard business calling features, like forwarding and conferencing and hold. They need to have granular control over call routing and roaming to control costs.
Put simply, they need communications on a mobile device that mirror what business desk phone systems provided.
So as you look to offer Mobile UC to business customers, make sure your service partners and suppliers can deliver a true Mobile UC business communications experience. Avoid them if all they offer is a stuck-together mess of workarounds that try to force fit consumer services into something that is business ready.
2. Control matters
For many enterprises, control over IT assets and services is mission critical. The typical enterprise IT department has direct control over networking, Internet access, business applications, landline telephony, communications recording and compliance, IT security and so on.
But strangely, IT does not exercise that sort of control over mobile communications. Control over how communications operate, visibility into who is talking to whom, how calls are routed, whether calls can be captured and recorded ... all these elements are controlled by the mobile operator, not directly by the enterprise IT staff.
Thankfully, modern enterprise mobile control services like our Mobile-X can put control in the hands of IT teams. That's because of our unique cloud-based communications control plane that opens up mobile communications management mechanisms so they can be accessed and configured by IT staff.
3. Native communications are truly business class
Mobile UC has been talked about for more than a decade. But in typical implementations, the "mobile" part is handled by an over-the-top-app that connects back into the enterprise's PBX or UC server.
Industry researchers have shown consistently over the years that adoption of these Mobile UC apps is very low, even described as "practically nil" in the words of one industry analyst we spoke to.
The reasons for poor adoption are usually cited as poor call quality and messy, unpleasant user experiences. As a result, Mobile UC implementations fall flat and users increasingly utilize their devices' native calling interfaces, even it if means making business calls on a personal line.
The key to resolving this adoption stumbling block is to recognize that mobile UC can be implemented using a device's native interface and features, even on a personal device in a BYOD situation.
Our Mobile-X solutions, for example, have enabled enterprises to make a mobile device into an extension of the enterprise PBX and allowing the device's native interface to be used for activating forwarding, conferencing, hold and other business features.
Better yet, because the native phone interface is used, there is no need for poorly performing over-the-top apps that don't deliver business quality communications.
The result is significantly higher usage and adoption of Mobile UC that is in IT's direct control and is truly business class.
Mobile-X from Tango Networks is the centerpiece of a wide range of use cases, including Mobile Unified Communications, mobile workforce communications, and programs for remote working, work from home, telecommuting and business continuity.
The Mobile UC channel opportunity: Mobile-X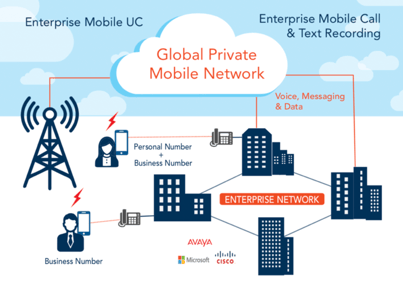 The latest version of our mobility solutions was released earlier this year and it offers a perfect bundling opportunity for resellers, system integrators, CSPs and other channel partners who are ready to offer Mobile UC to their customers.

The Tango Networks Mobile-X service provides your end customer with:

One consistent mobile subscription for all employees the world over, regardless of location or network used, which we call a Global Private Mobile Network.
Native communications on employees' mobile devices driven directly by the customer's Unified Communications platform, without requiring hard-to-use, poor quality over-the-top apps.
Complete control over compliance, recording, security, routing and communications costs for all mobile voice, messaging and data used by the customer's employees.
A foundation for migration to 5G and Private LTE.
These unique capabilities are why Tango Networks has been named a top UCaaS provider for two years running by Channel Partners magazine, and has been profiled recently in UC Today and Comms Dealer magazines.
Fill out the form below to explore how Mobile-X can create a compelling Mobile UC offering for your customers.