February 20, 2020
As we head into Channel Partners Expo next month, I am pondering how road warriors take their business identity with them in a mobile world.
And the good news is, yes, you can have your desk phone and leave the office with the exact same device too.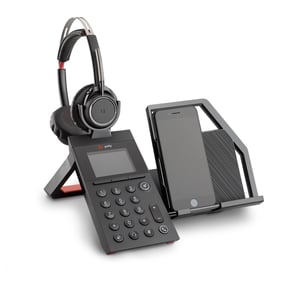 As more business users demand to go "mobile first" the industry is responding.
It's now possible to have the best of both worlds: The quality and business features of the traditional desk phone and landline, combined with the reach and efficiency of mobile phones.
I've started using one of the latest examples of this new business mobile trend, the Elara from Poly.
As you can see in the photo, it's an elegant approach to creating a hybrid communications experience. When I am at my desk, my smartphones rests in the cradle and I can use my headset or speakerphone just like a traditional desk phone. When I am on the go, the mobile goes with me.
And thanks to the Tango Networks Mobile-X service offering, my smartphone behaves exactly like an extension of our corporate PBX, even when I am out of the office.
Mobile-X extends business-class Unified Communications to any mobile phone. It basically means I can carry my desk phone right in my pocket.
Mobile-X:
Baffled by landlines
Let's face it. Business users have been using their personal mobile phones for many years. In fact, a majority of American homes have cut landlines altogether and are wireless only.
So business users are operating mobile phones for their personal lives every day and know them like the backs of their hands.
But traditional business desk phones ... not so much.
"'It's Giant and Has Like Five Million Buttons.' The Office Desk Phone Won't Die."
That was the headline of an article in the Wall Street Journal, explaining how business users are frequently baffled by their desk phones and increasingly rely on smartphones.
"I don't even know how to dial out on it," the newspaper quoted a business user as saying about the desk phone he literally never uses.
In one of our recent conversations with a leading industry analyst, we learned that it is estimated that fully 80 percent of all business calls take place with at least one participant on a mobile phone.
Stated another way, that means only 20 percent of business calls take place from landline to landline.
Going Mobile First
That's why we see cases again and again of companies dropping landlines as the primary tool for communications.
For example, accounting giant PwC has gone "mobile first" with communications and abandoned landlines for its 18,000 employees in the UK.
And now, thanks to cool implementations of desk phone technologies like Poly's Elara, you can truly have the best of both words, with the sound quality and conference phone features of the desk phone integrated directly with your mobile phon.
Mobile-X is sold only though our channel partners, so get in touch today if you are interested in more information about trying Mobile-X or reselling it.
Mobile-X from Tango Networks is the premier communications solution for companies implementing work-from-home, remote worker, teleworker, telecommuting, connected worker and business continuity programs.
I am really excited about this year's Channel Partners Expo in Las Vegas on March 10-12. Click here to schedule time with me and the Tango Networks team to discuss mobile first/ mobile only or even see a demo of the Poly Elara in action.
Or fill out the form below and we will be in touch.