July 12, 2018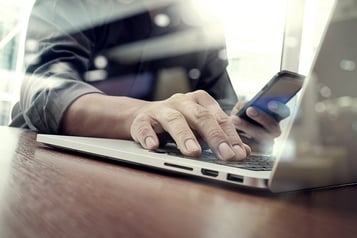 Every large corporation faces an IT future dominated by two major themes: Greater adoption of cloud-based services and increased use of mobile devices to access those services.
The cloud industry has opened itself to the enterprise, giving IT teams significant control over how applications are deployed, secured and used. This is part of the reason that cloud-based IT adoption is growing an estimated seven times faster than the rest of IT, according to IDC.
But the mobile industry has closed the barn doors to enterprise IT teams. As far as mobile operators are concerned, no matter how significant a corporate customer is, there is very little difference between the mobile services offered to it and those that any consumer can acquire. There is often no control over business and private usage.
Unlike fixed communications services such as office telephony, Wi-Fi and networking, IT managers do not have direct access and control over mobile voice and data used by the estate of mobile telephony users in the business. Yet increasingly, this estate is accessing the same internal and external applications used by their office-based colleagues.
For multinational organizations, keeping consistent control across the global landscape is even more challenging. Every mobile operator has its own way of servicing large customers, which results in a fragmented set of mobile service offerings and support. The variation of access and control between territories often forces adoption of expensive bespoke solutions just to support a subset of business applications internationally.
For many years, Tango Networks has offered technology that gives the enterprise IT manager direct control over mobile telephony services and routing for a variety of business applications, including Unified Communications and PBX services, workforce automation, mobile call recording and enterprise text messaging. At the same time, enterprise mobile users can use their devices natively to conduct business, even without the need for a mobile app.
Our Mobile-X technology is carrier grade and is compatible with most Unified Communications, PBXs and recording platforms sold over the last 20 years. It adds mobile access and control alongside existing deployments supporting fixed telephony including traditional call centers and desk systems.
Mobile-X from Tango Networks is the premier communications solution for companies implementing work-from-home, remote worker, teleworker, telecommuting, connected worker and business continuity programs.
The technology has also secured a vital role in new applications - most recently, as a result of the increase in accidents caused by distracted drivers. A new Tango-enabled mobile service has just been launched by a major wireless carrier in the US which controls the use of company drivers' mobile phones when the vehicles they are driving are in motion – the Responsible Driver System.
Tango Networks is at the forefront of supporting "Mobile First" or "Mobile Native" communications strategies and developing new ways to introduce mobile services policy control, specifically designed for global companies. Underpinning this is the concept of an "open" mobile core, linked directly into existing corporate communications systems and platforms, giving unrivalled visibility of and control over mobile communications.
Looking further ahead, corporate mobility is evolving to support market changes in the area of unlicensed LTE, also called Private LTE. Access to current best wireless communications technologies – 4G, and soon to come 5G – are limited to those organizations that have spent billions in license fees to acquire spectrum which only they can control and use. However new versions of 4G are agile enough to share spectrum with other users, and to operate specifically in unlicensed bands, at a cost similar to the deployment of Wi-Fi services.
This opens the possibility for businesses to own and control their own mobile networks. LTE is far more spectrum efficient than Wi-Fi, and so allows for better coverage and performance not only for mobile phones, but also for tablets, laptops, even desktops.
A CIO can now place their own mobile LTE network in important buildings and sites (of many miles in diameter), using the same secure, reliable communications technology and handsets on site as his employees are using out of the office.
This requires the deployment of a mobile core, and the ability to allow users on this network to roam on to the public network. This is the second area of Tango's enterprise mobility offering: a secure, reliable core service enabling mobility in- and out- of the office into a seamless, reliable and controllable communications fabric for all business users.
Contact us today to learn more about how Tango Networks' solutions can raise your enterprise mobility to the next level.