July 2, 2018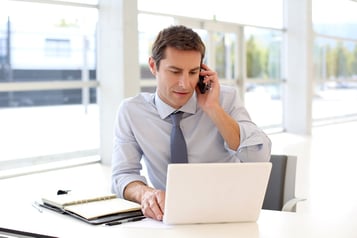 The impact of Customer Experience Management (CXM) is undeniable.
There is no doubt that our mobile workforces are stretching the boundaries of how we manage communications and enforce company policies.
Whether your company supplies mobile devices to employees, permits Bring Your Own Device (BYOD), or deploys some hybrid of the two, mobile devices can disrupt our long-established processes for device management, application management, security and user support.
But nowhere is this change more challenging than in the area of compliance, the requirement to capture, record and archive communications for certain types of users or in certain industries.
Compliance rules run the gamut from the need to record and document communications related to a financial transaction, such as in MiFID II, to the need for call monitoring for customer experience management.
But the typical compliance tools don't easily extend to encompass mobile devices.
So while more and more of your mobile workforce may be getting work done with their mobile phones, the enforcement of compliance rules might be falling by the wayside.
Mobile Call Recording & Other Compliance Tasks
The most effective compliant mobility programs are those that integrate employees' mobile communications with existing corporate communications and compliance systems. They then provide a single point of management spanning all of them.
In effect, this means the compliance system "sees" your staff's mobile devices as just more landline extensions. Business calls to and from the mobile devices can be captured, monitored, analyzed and archived just like those for the landlines.
Tango Networks' Kinetic Cloud
Tango Networks' Mobile-X provide simple, easily deployed ways to extend your existing compliance tools to encompass your employees' mobile devices. Our solutions turn your employees' mobile phones into extensions of the communications systems and tools you are already using.
Mobile-X from Tango Networks brings next-generation fixed mobile convergence technologies to communications for the distributed workforce. Now workers in or out of the office can have seamless corporate communications, including Mobile Unified Communications, mobile workforce communications, and programs for remote working, work from home, telecommuting and business continuity.
Check out our video about enforcing compliance rules for your mobile workforce:
Click here to arrange a demo of the Kinetic Communications Solutions and learn how they will enable your staff to be mobile and compliant.