April 11, 2019
Tango Networks has been named to the list of Top 10 Enterprise Mobility Solution Providers by CIO Applications Europe.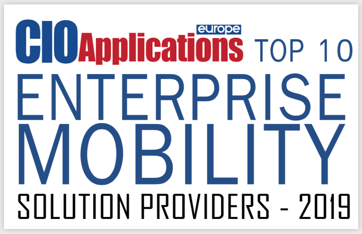 Citing the company's communications convergence and mobility solutions for enterprises, the magazine's editorial board singled out our technology for empowering enterprises to "fully enable their mobile workforces for greater productivity with rich, compliant communications."
CIO Applications Europe magazine describes itself as "the single most successful initiative Pan-Europe to advise and guide decision-makers regarding the latest in the fast-evolving technology landscape."
"Amidst growing software and hardware complexities, privacy concerns, and mobile management compliance, various enterprise mobility solution providers are coming to the forefront to deliver top-of-the-line solutions for users facing the complex world of enterprise mobility," the editors wrote about the vendors making this year's top 10 mobility list. "Enterprises are constantly looking for ways to improve business performance and workforce agility through a robust and customizable enterprise mobility platform."
The accolades from CIO Applications follow our announcement earlier this year of our new Mobile-X service, the industry's first mobile service to put control over mobile communications directly into the hands of enterprise IT
Mobile-X from Tango Networks is a key enabling service for modern business communications, including Mobile Unified Communications, mobile workforce communications, and programs for remote working, work from home, telecommuting and business continuity. The service brings next-generation fixed mobile convergence technologies to communications for the distributed workforce.
What is a Global Private Mobile Network?
Tango Networks Mobile-X creates a Global Private Mobile Network (GPMN) that is exclusively controlled by an enterprise customer. This means that your IT managers can directly control mobile voice, messaging and data services like never before.
Making a GPMN available to your workforce means that you have:
One consistent mobile subscription for a customer's employees worldwide.
Native communications on employee mobile devices driven by the enterprise's unified communications platform, for Mobile UC without requiring hard-to-use VoIP apps.
Advanced authentication and security with a foundation for migration to 5G and Private LTE.

Fill out the form to learn more about enhancing mobile workforce productivity with a Global Private Mobile Network: