September 15, 2023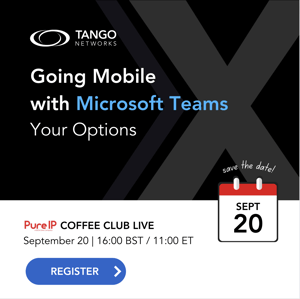 Join us and Microsoft for a webinar hosted by Pure IP on Wednesday, September 20, to explore options for extending Teams to mobile devices.
"Going Mobile with Microsoft Teams: Your Options" will feature speakers from Tango Networks and Microsoft and Pure IP discussing the latest innovations to mobile-enable Teams users. Click here to register.
The ability of Microsoft Teams Phone users to take and place calls from anywhere and on any device is meeting the growing demand of frontline workers.
Combined with Tango Extend from Tango Networks, Teams allows the escalating number of field-based employees in industries such as manufacturing or retail to use their go-to devices, even personal cell phones, to be connected to office-based communications.
During Pure IP's Coffee Club Live webinar on Wednesday, Sept. 20, 2023, Pure IP's Marketing Director Ian Guest welcomes Lee Essex, Tango's Head of Business Development & Strategic Partnerships, to join Microsoft leader Vandana Thomas, Principal Group Product Leader. They will be joined by Microsoft MVP and Founder of Empowering Cloud Tom Arbuthnot, Pure IP's Solutions Director.
The panel will provide an overview of the Microsoft Teams App for iPhone and Android, Teams Phone Mobile, and the new fixed-mobile convergence with eSIM option from Tango Networks.
The panel will cover topics including how your Teams Phone number to mobiles via new eSIM technology and how to mix and match any combination of solutions on a per-user basis.
Tango Extend enables calls to be made from the native dialer on virtually any mobile phone, using an existing Teams number.
Tango Extend enables mobile phones to become another endpoint – like a desk phone, conference phone, Desktop or laptop Teams client.
Tango Extend seamlessly brings Teams to employees on-the-go and the deskless workforce, such as frontline, hybrid and gig workers in retail, delivery, service, education, finance and virtually any industry. Tango Extend can be used by organizations of any size who have deployed Teams and want to enable more users to use calling plans when out of the office.