October 3, 2019
Text messaging has moved on from simply being a nice convenience for communicating with your friends and family and colleagues.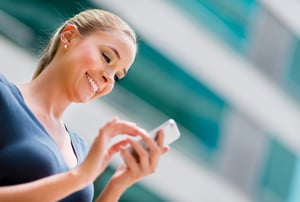 Now a large majority of consumers report they want to use text messaging to communicate with businesses.
According to recent survey data, 68% of consumers say they want to text with a company's sales team or customer support team.
The question is how businesses will enable their employees to engage in this preferred form of customer interaction.
Cisco Collaboration Creates Customer Conversations
Collaboration solutions like Cisco Jabber and Webex Teams are powerful tools for communication among employees.
The instant messaging features of Jabber and Webex Teams now can be turned into SMS texting for communicating with customers, partners, anyone in the outside world on a text-enabled mobile phone.
Our SMS Texting Solution for Cisco Collaboration enables users of Jabber and Webex Teams to send and receive SMS text messages with non-Jabber and non-Webex Teams users.
The service seamlessly converts the internal collaboration messages into external SMS on the mobile network. Inbound messages are likewise converted back to Jabber or WebEx Teams instant messages.
Now collaboration users have a direct way to engage in messaging conversations with customers and others outside the company.
Are you a Cisco reseller? Click here to learn more about reselling our Cisco Collaboration SMS texting solution.
Get in touch with us today to see how our SMS Texting Solution for Cisco Collaboration will create new conversations with your customers and partners. Fill out the form below to learn more and arrange a personal demonstration.