December 4, 2018
A new research report from 451 Research analyzes Tango Networks' acquisition of Simetric Telecom, a leading UK-based provider of innovative mobile services and telecommunications solutions.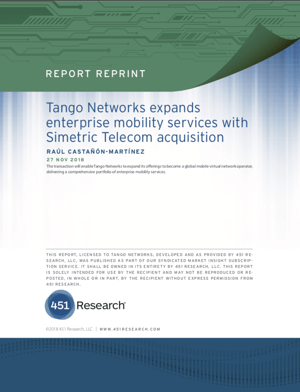 "The acquisition of Simetric Telecom further expands Tango Networks' efforts to extend unified communications functionality to mobile devices," writes 451 Research analyst Raúl Castañón-Martínez. "It should enable Tango Networks to become a global private mobile network, delivering a comprehensive portfolio of mobile-native services driven by the enterprise UC platform."
Castañón-Martínez adds: "This is consistent with our concept of second-wave mobility and the distributed work environment, a central component of how we envision the future of work will evolve."
The first wave of mobility was consumer-driven, according to 451 Research's previous reports on the topic. But "second-wave mobility" is now emerging and it is focusing on mobile business users and the IT staffs that support them.
Tango Networks announced the acquisition of Simetric last week, supplementing the launch of its enterprise mobile communications service, Mobile-X, offering Mobile Unified Communications, mobile communications recording compliance, automated enterprise application mobile integration, and Enterprise Text Messaging.
Mobile-X from Tango Networks harnesses next-generation fixed mobile convergence technologies for better mobile communications for the distributed workforce. Now workers anywhere can have seamless corporate communications, including Mobile Unified Communications, work-from-home, remote worker, teleworker, telecommuting, connected worker and business continuity programs.
Download a copy of the report:
451 Research also presented research on a recent webinar exploring the advent of enterprise-focused mobility, including:
Moving control over mobile services and policy enforcement into enterprise IT's hands.
Integrating mobile communications with enterprise applications such as Customer Relationship Management, Workforce Optimization, Customer Experience Management and others.
Mobile Unified Communications, "Mobile Native" and "Mobile First" communications strategies.
Capturing, recording, logging and archiving mobile voice and text communications for compliance.
Cloud-based mobility architectures, private wireless and mobility models such as Private LTE.

View the webinar: