June 20, 2023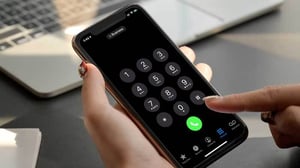 Tango Extend enables Microsoft Teams landline numbers to be used on any mobile phone.
Announced today, our new eSIM solution for Microsoft Teams Phone represents an industry breakthrough in Mobile Unified Communications.
Billions of deskless and remote workers in companies around the world can for the first time be tied directly into their companies' business communications systems from their personal mobile phones. This new app-less innovation will bring about huge gains in productivity, while reducing communications costs for companies of any size.
The solution leverages eSIM technology to mobilize fixed-line Teams Phone numbers. That means Teams users can make and receive Teams calls through the native dialer on their mobile phones, just like carrying a desk phone Teams extension everywhere they go. Think of it as the Teams desk phone in your pocket.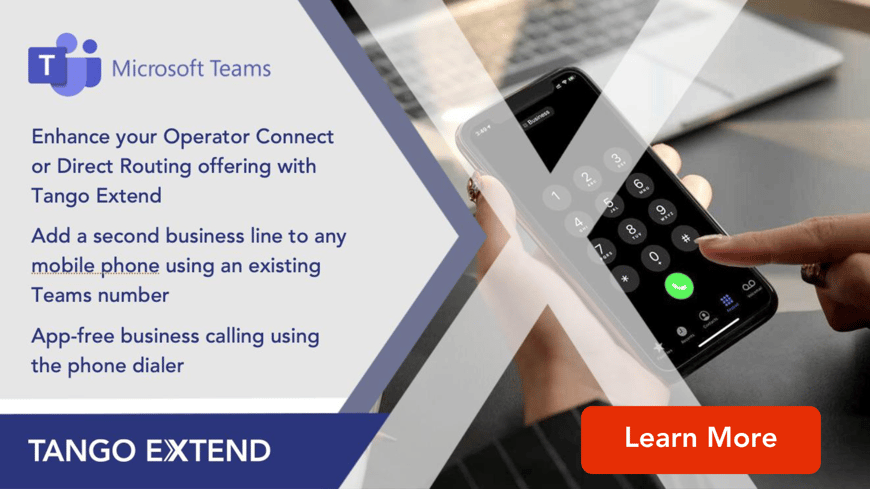 Dual Persona Power
Tango Extend enables personal phones to become fully featured extensions of a Teams implementation without any special apps or configuration or new licenses.
The Extend eSIM is provided by the employer and paired with an existing Teams landline number. Provisioning is simple and only takes a few minutes for most Android and Apple devices, using a simple QR code scanned by the user.
Once installed, the phone manages the dual personas on the mobile phone by using the Extend eSIM as the business line. Meanwhile the existing personal SIM remains private and secure. This means that personal communications and business communications are completely separate and secure and can even use different mobile networks.
The Teams-integrated persona uses the work-controlled eSIM and the employee's Teams identity and number for communications. Now when workers place a business call on a personal phone using the native phone dialer, Extend automatically ensures the call carries the Teams business identity. Customers receiving calls from repair people or delivery staff are not confused by a call from a personal number. They know immediately that the company is calling them. If the user has other Teams endpoints too, such as desk phones and Teams soft clients, these will ring simultaneously with the mobile device, offering complete choice of which device to answer the call on.
Teams for Frontline & Workers On-the-Go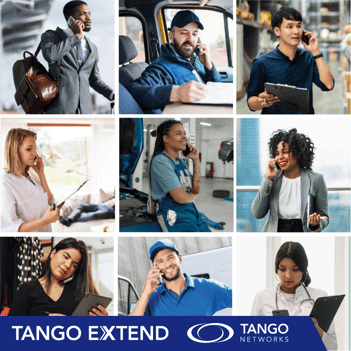 The new solution brings Microsoft Teams with green button calling to employees who are traveling or who spend extensive time away from their desks. It also extends Teams communications to the deskless workforce, such as frontline workers in retail, delivery, transportation, warehousing, logistics and in-home services.
The frontline user base represents nearly 2 billion workers across the globe, most of whom do not regularly have access to company provided Unified Communications.
Now Tango Extend ties these workers into company communications, including temporary workers, contractors and freelancers, driving improvements in collaboration and efficiency.
Ultimate Fixed Mobile Convergence
The new solution is made possible by our groundbreaking fixed mobile convergence technology, covered by more than 100 patents. It provides seamless integration between mobile devices and the Unified Communications platform used by a company for business communications.
Andrew Bale, President of Tango Networks, explains that the company's "secret sauce" has always been about that blend between core control on the mobile side and core control of unified communication services. "You have a mobile number, a mobile subscription, and you want that mobile subscription to have its call control delivered not by the mobile operator, but actually handed off into your Teams environment," Andrew explains. "That's what Tango Extend is doing."
For employees, Tango Extend allows them to make and receive Teams calls through their mobile phones' native dialers. The solution is simple, intuitive and there are no apps to activate and no need to carry two devices.
For employers, the technology allows for consistent, efficient Mobile Unified Communications utilizing Teams with their distributed workforce. The solution even permits mobile calls to be recorded for compliance, essential in sectors such as financial services, or for customer quality assurance and training.
Productivity Gains & Cost Savings
Extend promises to bring about dramatic business benefits. Employees will be easier to reach, will connect more reliably, and will be able to collaborate more intuitively and efficiently.
"It's not only a better user experience that this solution delivers. Companies will also be able to cut costs and improve their ESG scores as well," Andrew explains. "For example, reducing the number of desk phones in the office, reducing the number of company-provided mobile phones and reducing the costs of processing claims for business use on personal phones".
See our new cost savings calculator to see what cost and carbon savings achievable by any company with Tango Extend: https://tangonetdev.wpengine.com/value-calculator/
Check out more details on how Tango Extend will mobilize your Teams environment here: https://tango-networks.com/tango-extend-for-microsoft-teams/