March 30, 2018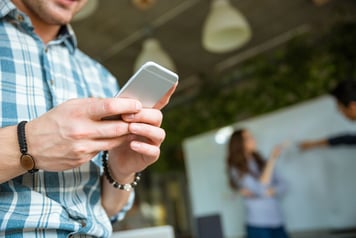 For a number of years now, text messaging has been the most popular form of communications for Americans under the age of 50.
If your company wants to conduct business with consumers in this important age group, are you able to communicate with them in their preferred way?
Especially in the area of customer service, text messaging has become an increasingly important way of interacting with customers, patients, clients and other consumers of your products and services.
Given a choice between waiting on hold for an extended period, or being able to contact someone with a simple text, consumers increasingly prefer to text, according to many surveys.
The question then becomes how you enable your employees to utilize their existing business number for sending and receiving texts with the outside world.
Communications Compliance of Texting
Another essential question in SMS-enabling your team is how you can ensure that these communications remain compliant with your organization's requirements for communications recording, archiving or monitoring.
In many industries, such as financial services, communications may need to be captured and archived to provide a record of a financial transaction, for example.
In others, monitoring and recording communications becomes an essential part of customer service quality assurance. Such organizations have invested in the monitoring of communications to gauge customer satisfaction and identity training needs for customer service staff.
Such critical compliance and quality programs need to function in this new world of customer text communications as well.
SMS Texting with Business Numbers
At Tango Networks, we have solved the challenges for organizations looking to SMS-enable their business communications and enforce compliance rules on these messages.
Our Enterprise Text Messaging solutions enable your users to use their mobile phones to send and receive SMS text messages from their work numbers. That enables them to conduct business by text message with anyone on a mobile phone.
Very importantly, our solution makes SMS texting on business numbers very simple for your users, with intuitive operation reflecting texting and instant messaging functions that they are used to.
SMS Texting with Cisco Jabber
A very popular use case for our Enterprise Text Messaging solutions is the enablement of SMS texting for Cisco Jabber users.
They can simply send and receive messages via their Jabber clients as they always have. Our solution operates in the background to SMS-enable these communications.
Our solution links to the Cisco IM and Presence server in order to connect the corporate environment to the global SMS community. It receives messages from the corporate environment intended for wireless endpoints then delivers them to the global SMS community where it is then sent to the recipient's mobile phone. In the other direction, our solution receives incoming SMS messages from the global SMS community directed to a business number and converts those messages into IMs for delivery to the Jabber client.
This has the added benefit of enabling you to incorporate these communications into your compliance processes. Our solution can push the SMS messages into your existing communications recording, archiving and customer service quality tools, for a continuous logging and audit trail of these new communications.
In addition, Mobile-X from Tango Networks brings next-generation fixed mobile convergence technologies to communications for the distributed workforce. Now workers in or out of the office can have seamless corporate communications, including Mobile Unified Communications, mobile workforce communications, and programs for remote working, work from home, telecommuting and business continuity.
Check out our new demonstration of the Cisco Jabber SMS texting solution and contact us to learn more.